| | |
| --- | --- |
| Posted on December 2, 2015 at 7:45 PM | |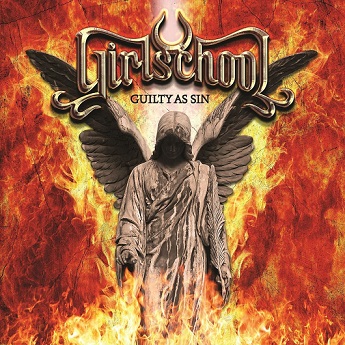 Girlschool – Guilty As Sin
Written by The Rock Man
I love women that rock. Now let me clarify, I'm not taking about the recent rise in bands fronted by female vocalists that sing in a half operatic style that is all the rage in the symphonic metal scene. What I'm talking about is good old-fashioned rock and roll singers; the stuff that was pioneered by the likes of Lita Ford, Doro Pesch, Joan Jett and Girlschool. In fact, Girlschool are one of the few all female hard rock bands that have managed to survive in a mainly male dominated genre of music.
35 years after their introduction to the world stage the girls from South London are still rockin' as hard as ever, and in some cases showing their male counterparts a clean pair of heels (no pun intended). Their new studio album: Guilty As Sin is testimony to that and a little reminder of how rock and roll used to be back in the day, yet at the same time giving it a freshness for today's market.
The record features 12 tracks and runs for 41 minutes so it's a rapid, uncomplicated, entertaining listen. The album kicks off in a stunning fashion with Come The Revolution. Singer and rhythm guitarist Kim McAuliffe shows no signs of diminished vocal ability as she belts out this toe tapping, fist pumping melodic rocker which sets the tone and feel for the remainder of the record. I'm betting there are some other bands that have been around just as long as Girlschool that wish they still sounded this good. Take It Like A Band is a short, sharp, to the point rocker with slight punk undertones, while the title track is one of those songs that any band from the '80s such as Motley Crue, Poison, L.A. Guns or the like, would have loved to have had on their album back in the day.
What the band does with a cover of the Bee Gees mega-hit Staying Alive is just brilliant. The guitar sound at the beginning has an almost ZZ Top feel to it but that technique works really well for the song. The band also uses guitars in another interesting way to replace some of the ultra-high vocal notes during the chorus which I thought was quite clever. As the rest of the album unfolds the band explores casual meaningless sex on the early '80s sounding rocker Painful, more punk fuelled attitude on Night Before and Coming Your Way is another dose of old-time hard rock and roll at its simplistic best. The album comes to a close with the short, punchy rocker Tonight.
A word of praise must be directed at producer Chris Tsangarides (Judas Priest/Thin Lizzy/Helloween) who has manufactured a well-balanced, crisp and clean sounding experience. As for the band, McAuliffe, as I mentioned earlier is still at the top of her game and the same can also be said for bassist Enid Williams who also does vocal duties on several tracks. Drummer Denise Dufort rips through some cracking drum patterns and beats and lead guitarist Jackie Chambers cranks out some electrifying solos.
What I find interesting is that over the journey Girlschool have managed to influence more male musicians than female artists. Which is a bit of a shame in a way, because as I said at the beginning I love women who rock and the industry needs more female singers/bands involved. Maybe somewhere in the world a group of young girls will hear Guilty As Sin and be inspired to become the next great all-female hard rock band.
Categories: Album Reviews