| | |
| --- | --- |
| Posted on December 2, 2015 at 7:45 PM | |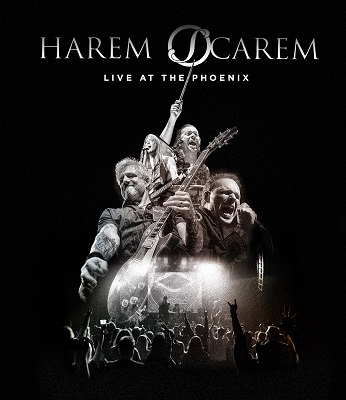 Harem Scarem – Live At The Phoenix
Written by Juliano Mallon
2013 saw the return of Harem Scarem to the scene with the re-recording of "Mood Swings", one of their classic albums with three new tracks added to the tracklist. The positive reaction of the fans was overwhelming and set the band on the path that culminated on "Thirteen", the band's latest studio album.
During the promo tour, the band in their hometown of Toronto recorded the concert at the traditional Phoenix Theatre, and the register of that magic night is coming to you on December on a killer 2-disc+DVD/Blu-Ray set.
Disc 1 comes packed with killer rockers "Garden Of Eden", "The Midnight Hours" and "Killing Me" representing the band's latest album. The powerful "Hard To Love", "Dagger" and "Distant Memory" keep the bar high, delivering punch after punch. And there's also the instrumental piece "Mandy" (sounding even more beautiful live) and the explosive "Slowly Slipping Away", surely one of the highlights of the whole concert.
.
Disc 2 has its share of classic anthems, such as "Sentimental Blvd." (in an impressive performance by Darren Smith), followed by the soaring "Stranger Than Love" and other signature songs, such as "Saints And Sinners", "Human Nature", "Change Comes Around" and the absolute classic "No Justice".
Live albums tend to be obvious, especially when the band in question has been on the road for a while. And "Live At The Phoenix" is no exception to the rule, but one must acknowledge the perfect choice of songs, balanced between some of the band's classics and their most recent material. Also, the mixing of the album is top notch (especially the drums), something not so easily found in live recordings.
Finally, Harem Scarem shows – once again – they're on top of their game, with Harry Hess flawless singing, accompanied by Pete Lesperance exquisite guitar playing and Darren Smith's energetic drumming, and even new bassist Stan Miczek nailed his parts I can say, without a doubt, that "Live At The Phoenix" is Harem Scarem's best live album to date and would be a more than recommended purchase even without the DVD/Blu-Ray.
"Live At The Phoenix" will be out on Dec. 04th, on Frontiers Records.
Categories: Album Reviews