| | |
| --- | --- |
| Posted on December 2, 2015 at 7:35 PM | |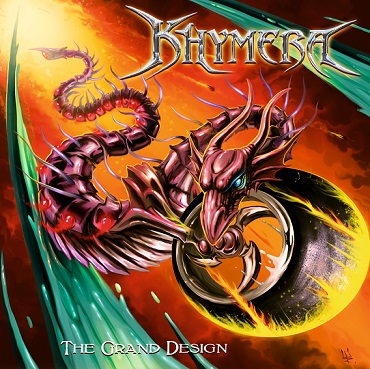 Khymera – The Grand Design
Written by The Rock Man
Several years ago a friend put me onto Khymera. Up until that point I had never heard of this band but the thing that sealed the deal for me was the involvement of Dennis Ward. Known as the bassist and founder of Pink Cream 69, Ward has built up a pretty impressive resume producing albums for Eden's Curse, Place Vendome, Unisonic and Sunstorm among others. Personally, I think this guy has the Midas touch and every project he's a part of is all the better for it. So back in 2008 I get handed this Khymera album, The Greatest Wonder, only knowing Ward was the bassist and lead vocalist, but as fate would have it the album was one of the must have records of the year. After that though everything went quiet on the Khymera front while Ward attended to his other projects; that is until now.
It is fair to say that it has been a long time between drinks for Khymera, however late in 2015 the band breaks the drought with The Grand Design; and how grand it is. The album is a vivid, passionate, buoyant celebration of life and all its wonders. In fact, I can't recall hearing one negative lyric come out of Ward's mouth during the entirety of this 12 track/53 minute long production.
If you don't mind a bit of keyboard action with your hard rock then you'll love the work of Eric Ragno, who performs some engaging pieces of keyboard playing. This is skilfully balanced by the mix of the guitars of Michael Klein who delivers some scorching solos and memorable rhythms and riffs throughout the course of the album. Drummer Felix Bohnke provides a solid foundation for the band to build upon, which brings us to Ward, who masterfully brings all these elements together to create a collection of vibrantly produced, well-crafted, written and executed songs.
Never Give Up On You gets us underway and the band doesn't deviate from this course a great deal for the rest of the record. The track is a big sounding , melodic guitar driven, rock radio station's best friend. Lots of catchy vocal harmonies, melodic rock attitude and feel good lyrics are on offer here. Tell Me Something follows and I felt while displaying all the elements of the opening track, the guitars sounded slightly more gritty and this makes it a real highlight of the album. Further down the tracklisting are a bunch of songs that just as easily could have landed on a Sunstorm record instead of here; the first of them being A Night To Remember which is a perfect example of mixing melodicism with edgy, thick driving guitar. Others in this vein include Land Of Golden Dreams and Finally, as one might expect there is also a solid representation of power ballads available here as well: Streetlights, Where Is The Love and Say What You Want which cries out to be a single for radio.
After listening to the album my initial thoughts were that fans of the whole Journey, Joe Lynn Turner, Nelson thing should really be drawn to this record. However after several more listens I am now of the belief that The Grand Design really has mass appeal and really should be heard by as many music fans as possible. What Dennis Ward has done with Khymera since jumping on board is simply outstanding and this new album is undeniable proof of his talent as a songwriter, producer, musician and singer. I implore you, give The Grand Design a listen, you won't regret it.
Categories: Album Reviews