| | |
| --- | --- |
| Posted on November 17, 2015 at 7:15 PM | |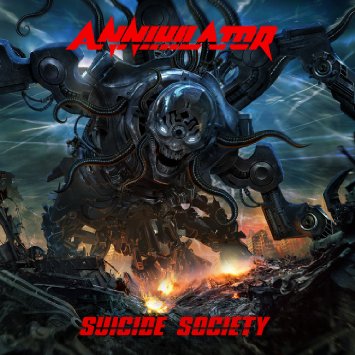 Annihilator – Suicide Society
Written by The Rock Man
Annihilator is not for the faint hearted. For the past two and a half decades these Canadian metallers have been unleashing onto the world their brand of metal that at times is frantic, powerful, aggressive, uncompromising and relentless, but never sacrificing its melodic integrity at any stage. This same philosophy applies to the band's new studio album Suicide Society but for mine, this new material stands out as some of their more impressive work of late.
The band has had its fair share of line-up changes, particularly when it comes to lead vocals. For the past eleven years Dave Padden has occupied that slot but after departing the band in 2014 that vacancy has been filled by band founder, songwriter, producer and lead guitarist Jeff Waters. Having filled the role previously on the 1994 release King Of The Kill, 1996's Refresh The Demon and 1997's  Remains, Waters takes to this task like a duck to water and is a refreshing change from the sometimes harsh approach of Padden.
The record explodes into life with the title track. From a musical stand point the song feels to me like a blend of punk meets metal, and although I'm not a fan of punk it managed to hold my attention. Here Waters examines the world which we have created and the human and environmental atrocities we are responsible for. For all intents and purposes Snap is the only radio friendly track on the album and it comes as no surprise then that this is the lead single from the record. Lyrically the track deals with the emotion and frustration of ending a relationship which should have ended long ago. It is supported musically by an excellent chugging melodic guitar riff and Waters vocals reflect the desperation of the situation.
On Narcotic Avenue Waters and co explore the tragedy of battling drug addiction. After a funky influenced opening the track launches into a more thrashy style approach and takes no prisoners. Another highlight of the record is Break, Enter which is a tale about a burglary but from the point of view of the home owner. I thought this was a fun, humorous track but maybe this says more about my sense of humour than anything else, especially given that this is actually based on Water's own experience. Musically it shifts its way through several tempo changes but is pretty damn catchy nonetheless.
Annihilator cover a range of topics on this record which include violence at the hands of religious extremism, psychological issues, fighting for survival, revenge and living life to the full; and all to a bed of full speed drumming, chunky guitar and shredding solos.
For those that simply can't get enough Annihilator, the deluxe edition features a second disc of re-recorded material with Waters on vocals, and there are some real gems to be found here. For example, Knight Jumps Queen which has long been a personal favourite; only in the realm of Heavy Metal would you find a song about playing chess that makes it sound like the most exciting game on the planet. Then there are other shining moments like Never, Neverland, Reduced To Ash and I Am In Command from the 1990 Never, Neverland album in addition to some more recent cuts like Deadlock, Smear Campaign and Ambush.
Previous Annihilator efforts have left me in a 'take it or leave it' state of mind, largely in part to Padden's vocal style, however with Waters now taking control of the mic once again on Suicide Society I feel Annihilator have gone to another level and have become a much better band. Suicide Society it has to be said is a solid, well produced, well written and well performed body of work but as I said at the beginning, not for the faint hearted.
Categories: Album Reviews