| | |
| --- | --- |
| Posted on November 17, 2015 at 7:10 PM | |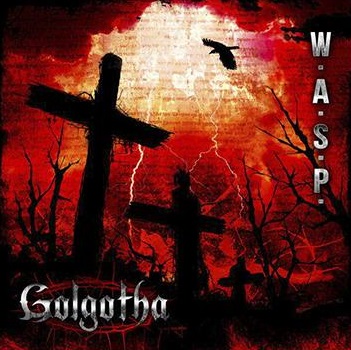 W.A.S.P. – Golgotha
Written by Dave Smiles
Take away the controversy and shock tactics (and auto-tune) from many of the 'artists' that hit the Top Twenty these days and you'll be left with very little substance. Sure, crossing and pushing the boundaries gains attention and gets people talking, but as time passes and trends fade all that is left to back up an artist's work is the music. In the case of W.A.S.P., there were none more controversial. They were included in the PMRC's Filthy Fifteen list and their on stage theatrics are stuff of legend. All that aside, they have a very strong catalogue of fun, rebellious and often thought provoking music. Now, since Blackie Lawless has returned to his childhood faith and denounced the band's most infamous song, Animal, all that remains is the strength of the songs.
Lawless, who has always been a great songwriter, has only gotten more interesting since his religion has come full circle. Somehow embracing the bible and making his faith his own (instead of an organised belief of what it should be) has made his songs more menacing and his social commentary more terrifying.
In modern times when technology allows the individual selection of songs from any bands' back catalogue, the art of album structure can be said to be all but dead. One of Golgatha's strengths is the order of the songs. It's laid out in a way that eases the listener into the heavy themed songs by starting out with the harmless rocker Scream and then following up with Last Runaway and Shotgun, both of which show some of the underdog street smarts Lawless has often used as themes for his work. The ballad Miss You, apart from showing how strong Lawless's vocals remain to this day, is as honest as it is powerful. Upon hitting the mid-way point of the album we start to hear more religious and social commentary within songs like the brilliant Slaves Of The New Order, Eyes Of My Maker, and the almost eight minute powerhouse title track Golgotha.
It's obvious this is a very personal album for Lawless and it can only benefit from this. Showing his concerns, fears and beliefs make for a raw honesty from which all great art has been born. Furthermore, the band might sell more albums if they were to release an album filled with lyrics from the 'shock' era, but Blackie stays true to what he believes at this point in his life and remains true to himself. You can't get more 'Metal' than that.
Overall, Golgotha is an upbeat rock n roll album that brings The Last Command to mind, taking what was best about W.A.S.P. and working within those boundaries. There's no aim to experiment or expand on who they are or what they do. At this point in their career they won't be finding any new fans, this is one for the band and the true fans who have stuck by the band all these years.
Categories: Album Reviews