| | |
| --- | --- |
| Posted on November 17, 2015 at 7:00 PM | |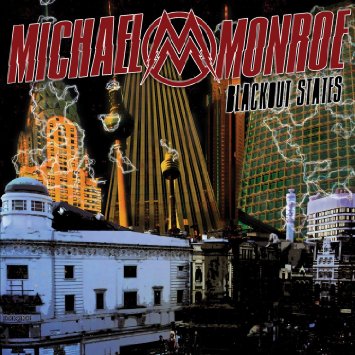 Michael Monroe – Blackout States
Written by The Rock Man
For 34 years Finnish rocker Michael Monroe has been implementing his unique brand of hard rock/glam punk hybrid rock and roll; firstly as the lead singer of Hanoi Rocks and then as a solo artist. His influence across the rock landscape is far reaching and many bands such as Motley Crue, Poison, L.A. Guns and the like consider him and Hanoi Rocks as the founding Godfathers of the Hollywood glam rock scene of the 1980s. However unlike a lot of artists which he helped inspire, Monroe has always managed to remain relevant regardless of shifting musical trends and can boast an impressive solo catalogue which now includes his newest release Blackout States.
Continuing the form shown on Sensory Overdrive (2011) and Horns And Halos (2013), this new collection of material showcases all the hallmarks which has made Monroe the icon for which he is regarded. I have often thought of Monroe's vocal style as Vince Neil meets Robin Zander meets David Lee Roth, and once again that delivery shines on Blackout States. But while the name on the album cover reads Michael Monroe, he is heavily supported by a stellar band. This is a group of seasoned veterans that includes guitarists Rich Jones and Steve Conte, drummer Karl Rosqvist and bassist Sami Yaffa, and the performance of this collaboration is as impressive as Monroe himself.
The lead track is This Ain't No Love Song which is a short two and a half minute punchy, punk attitude fuelled rocker about unwanted love. The first single from the album, Old King's Road quickly follows and sees Monroe reminisce about his early days in London with a backdrop of chugging guitars and bombastic drums. In fact, Monroe often reflects on the past whist maintaining one eye on the future and tracks like Good Old Bad Days, The Bastard's Bash and R.L.F. serve him well here. Going Down With The Ship, Keep Your Eye On You, Permanent Youth and the title track demonstrate Monroe's ability to produce a catchy melodic radio friendly rocker while Dead Hearts On Denmark Streets and Walk Away have more of a Ramones flavour about them.
One of the aspects about Blackout States which I like, that can also be said about previous efforts, is that the tracks are short for the most part and cut to the chase quickly. The album features 13 tracks in all but runs for just over 42 minutes making it a swift, easy and enjoyable listen. This format clearly works for Monroe as he goes to it time and time again and as I've said before you don't survive in this business for over three decades if you're not doing something right. Sure, there's other artists out there doing more complex material or even those creating their own modern interpretations of what they think rock and roll should be, but as Monroe himself stated of the album: "I highly recommend 'Blackout States' to anyone who's even a little bit interested in what real, authentic, high energy rock 'n' roll at its best sounds like today." And that sounds good enough to me.
Categories: Album Reviews