| | |
| --- | --- |
| Posted on November 10, 2015 at 8:15 PM | |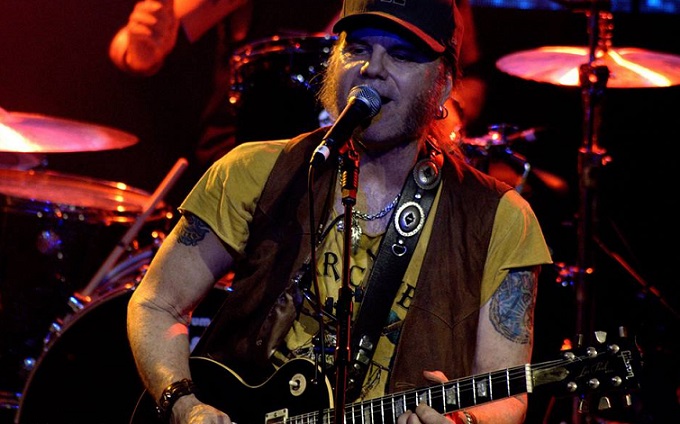 Interview With David Glen Eisley
By Juliano Mallon
With one of the most reconizable – and respect – voices in the AOR universe, veteran David Glen Eisley has one too many great albums under his belt, but the most remembered is the very first work with Giuffria, released back in 1984. After decades of silence, most of the band got together for a memorable concert at Rock City, in Nottingham. With that in mind, I contacted Mr. Eisley, who kindly agreed to talk about his past, present and future plans.
Last week you performed live at Rock City with Craig Goldy and Alan Kriger as Giuffria. How was it for you to be back on stage, after all these years, and with other two original members of the band?
DGE: It actually was great to be playing again with my pals from the past, I love these guys. Lifetime friends!
How the invitation came through? Who had the idea and how did you feel when contacted about playing again as Giuffria?
DGE: It actually came through a mutual musician friend of mine that the promoters of Rock City had contacted looking to get in touch with me. He contacted me and asked if it were alright to pass along my info. I said yes and they contacted me to see if I had any interest.. Simple as that. About a year ago Craig Goldy had asked if I would participate in a small festival in San Diego and after alot of coaxing he got me to agree. That little gig consisting of Myself, Craig & Krigger somehow reached across the Atlantic and the next thing I know is they were approaching me for what just happened in Nottingham.
Any words on why Gregg Giuffria and Chuck Wright weren't there?
DGE: Well actually Gregg & I speak quite often and though he is very successful as a business fellow now he has expressed interest in he and I writing a few tunes and seeing what happens. Who knows right?? As far as Chuck he is very busy with Quiet Riot and although we both love playing together there is some sort of contractual situation that prevents him from doing anything really regarding all of us playing together. Not quite sure as it is a bit strange. But it is what it is.
I'm sure expectations were running high for the concert. Were they met?
DGE: Our expectations were many variables.. For starters we kind of knew things would be chaotic and there really would be no sound checks, strange equipment, etc so going into it to begin with was with a bit of concern. Our attitude was to forget all the "what if's," just plug in and blast through and have a good time amongst ourselves. If the audience caught on great.. If not, too bad. But everybody seemed to enjoy it and we enjoyed ourselves.. So I guess it was a victory for all.
Since it was announced, this reunion spawned one too many rumours, the most recurring being Giuffria would reunite for a new album. Is there any level of truth in those rumours?
DGE: All I can say is that Craig & I are starting the writing process for a new record on Frontiers Records which I did my first solo record with. In what configuration it will appear in is to be determined at a later date. But we are writing now.
Giuffria's first album is a bonafide AOR classic. After 31 years, how do see it? How relevant do you think it is and why is that so?
DGE: That first record is a very different type of record covering a wide range of influences as we all were so different from one another but we managed to come together and make some sense out of a very illogical combination of personalities.. It just seemed to produce something a little different than the norm.
Moving on in time, you released three awesome solo albums between 1999-2001. What have you been up to since then?
DGE: Since 2008 I have been kind of taking care of my daughter's acting career. She has been working since she was fourteen and her mother, my wife Olivia Hussey (Romeo & Juliet) also an actor are very aware of the crazy business it is and have kept a keen eye out for the pitfalls that are always present. But India is now 22 years old and is more than capable of handling her own affairs allowing me to return to the studio, road, whatever. It's all good.
Any chance we'll get more music from you anytime soon?
DGE: Yes. You will be hearing from me and/ or from a few of us. As I said Craig & I are writing, Gregg & I probably will be & I on my own am starting to put stuff together as we speak.
David, it was a pleasure talking to you. I wish you all success on your future endeavours and wish to hear more music from you soon...
DGE: Thank you, Juliano, for the opportunity. I would just like to say to anybody that was in Nottingham in October "thank you" for the welcome back and any players out there, young or old just be true to what YOU are and just keep playing, writing, singing or whatever you do.. Do it true.
For more information about David Glen Eisley visit the official website at: www.davidgleneisley.com
Categories: Interviews