| | |
| --- | --- |
| Posted on October 28, 2015 at 4:45 AM | |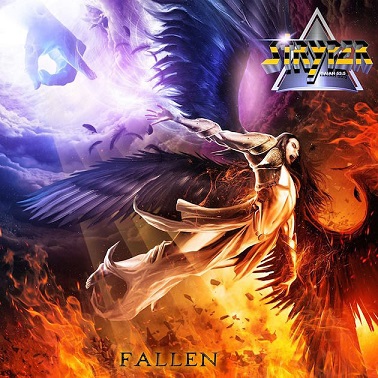 Stryper – Fallen
Written by The Rock Man
Hot off the heels of their 2013 studio recording No More Hell To Pay (their most successful since the 1986 album To Hell With The Devil), and the release of the 2014 live album Live At The Whiskey, Gospel rockers Stryper have returned with a striking news album titled Fallen. For a band that at one point looked like it may never record again during the 1990s, Fallen, remarkably, is the band's 11th studio offering and continues on where the impressive No More Hell To Pay left off.
The first thing that becomes glaringly obvious is the heaviness of the guitar work. Sure, previously comments have been made about the guitar sound on past albums, but this time around vocalist/lead guitarist Michael Sweet and lead and rhythm guitarist Oz Fox lay down some seriously "heavy", yet still very melodic, riffage.
As a result this in turn pushes the rest of the band to follow suit. I have been a fan of drummer Robert Sweet for decades now and I don't recall him ever playing as hard and as heavy as what he does on this record. Naturally the same goes for bassist Timothy Gains who delivers some awesome bass runs and arguably his finest work to date.
Yahweh, the first single and opening track is co-written by Sevendust guitarist Clint Lowery who sent singer Michael Sweet a guitar riff idea which developed into the track on the record. The song is a thunderous explosion of sonic bliss complete with choir backing harmonies, crunching guitars, hard-core double bass drumming and razor sharp vocals; and sets up the rest of the album perfectly. Lyrically the track is very powerful as well as it details the crucifixion of Christ.
From here on in the record gets better and better with every track. The title track explores the story of Lucifer being thrown out of Heaven and oozes that trademark Stryper sound that gets the head nodding while Pride knocks your head off as it raises the ante on heaviness. This is an awesome track that should put to bed any fears people have that Stryper aren't a metal band. Forget what you think about their "message"; if this track was on any other metal record it would be regarded as a triumph of musical mastery. Big Screen Lies is a more modern take on the Stryper sound and takes a swipe at the movie industry for the way that Christians are often portrayed in a less than favourable light.
It's hard not to find at least one track on any new Stryper album that doesn't take me back to the Soldiers Under Command era, and on Fallen there is Heaven and King Of Kings. All Over Again is the album's ballad-ish track and allows us to take a slight breather before the band fire up the rockers once more with the cuts: Let There Be Light, Till I Get What I Need and After Forever which is a cover of a Black Sabbath tune. Unfortunately I can't say I am well versed on the original so having heard the lyrics I am actually surprised this was a Black Sabbath song in the first place. The song lyrics read like a Stryper written song, "Could it be you're afraid of what your friends might say/If they knew you believe in God above?/They should realize before they criticize/that God is the only way to love". For those of us still stuck in 1986/87 there is The Calling and Love You Like I Do that brings a nice balance to the overall sound of the record which pretty much has something for everyone on here.
There is no doubt that Stryper can hold their own against any of their contemporises. They have managed to do that for a very long time, even though they were missing in action during the '90s. The mistake I think too many people make is to focus on the "lyrical message" and forget to see them as a genuine rock band. Which is a pity really because Stryper are one hell of a band and Fallen is one hell of a record.
Categories: Album Reviews