| | |
| --- | --- |
| Posted on October 28, 2015 at 4:30 AM | |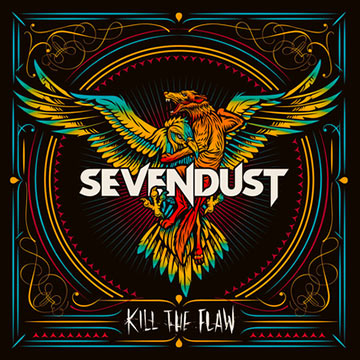 Sevendust – Kill The Flaw
Written by The Rock Man
After 18 years I am still amazed that I have not heard this band record a rubbish album. There are some bands which I have followed for longer that have produced at least one poor effort, but never Sevendust. So when I heard the news the band was recording some new material for an album called Kill The Flaw, I thought the law of averages says this one will be the one that falls flat, surely. But once again Sevendust steps up to the plate and knocks this bad boy for a home run.
In an industry that can change on a dime, you don't survive for close to two decades without doing something right. For Sevendust that something is the combination of hard work, knowing your target audience, staying true to the formula that works and, most importantly, staying true to yourself. On Kill The Flaw, the band's 11th studio album, all these elements come together perfectly to create a dynamic, bold, razor sharp and well constructed listening experience.
So from the acoustic settings of the previous record, 2014's Time Travelers & Bonfires, this new venture sees the band kick back into top gear. Sevendust wastes no time in establishing the tempo and agenda for this album with the roaring opening track Thank You. This cut, like most of Sevendust's material, is relentless on the driving drums of Morgan Rose, the electrifying guitars of John Connolly and Clint Lowery, the bone shattering bass tones of Vince Hornsby and the soulful powerhouse vocals of Lajon Witherspoon.
Over the years the band have developed this knack for creating music which is super heavy during the verses and ultra melodic and full of wonderful harmonies during the choruses; Death Dance and Forget are prime examples of what I am talking about.
On the lighter side is Letters, which while mid tempo is as close to a ballad as this record produces. This showcases everything I like about Sevendust and Witherspoon's vocals are the hero here. Cease And Desist combines some heartfelt piano playing and edgy guitar parts to construct a master stroke of songwriting prowess.
The surprise packet of the album is Chop, the track starts out with a modern country acoustic guitar feel to it which raised my eyebrow initially. Shortly thereafter however the track settles into what you would expect from a Sevendust tune, more aggressive grinding guitars, ruthless drumming and vocal dominance. The title track is simply brilliant and I found it harkens back to the style shown on their Seasons album of 2003; this may or may not be good news for fans depending on your views of that era. Torched is controlled aggression and closes out the album with an exclamation mark.
Clearly Sevendust isn't going to be everybody's cup of tea and I can understand why some might even question why I like them given the 80's hard rock stuff I normally listen to. However I just continue to find something magical happens when these guys get into a room together and make music, and Kill The Flaw further enhances that belief. Like I said at the outset, I haven't heard this band record one rubbish album yet in 18 years and Kill The Flaw keeps that record soundly intact.
Categories: Album Reviews