| | |
| --- | --- |
| Posted on October 28, 2015 at 4:25 AM | |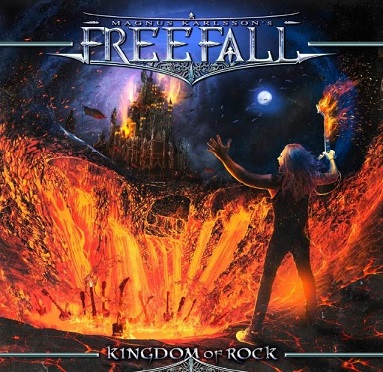 Magnus Karlsson's Freefall – Kingdom Of Rock
Written by Juliano Mallon
I confess metal was never a favorite style for me, though I acknowledge quality in some artists/bands there. However, I really do like the mix between hard rock with tints of metal and that's what caught my attention when Magnus Karlsson released the first Freefall album, three years ago. Now, he's back with "Kingdom Of Rock", an album that features some of the best – and most recognizable – voices in the contemporary melodic rock/metal scenes, namely Jorn Lande, Jakob Samuel, Joe Lynn Turner, Tony Martin, David Readman, Rick Altzi, Tony Harnell, Harry Hess and Rebecca De La Motte, besides Magnus Karlsson himself.
Karlsson took over all instruments, except for the drums, handled by talented Chilean Jaime Salazar.
With carefully crafted variations of the same theme, Karlsson brings healthy doses of heavy – and infectious – rock on great songs, such as "Kingdom Of Rock", "Out Of The Dark", "I Am Coming For You" and "Another Life", all worthy of top volume when listening to each and every one of them.
With a more radio friendly approach (but with the same punch), the awesome threefold "No Control", "Never Look Away" and "A Heart So Cold" fight for your attention, revealing a perfectly melodic rock-oriented layer of the album, which is also worthy of top volume. Believe me, your neighbors will thank you later.
Also noteworthy are the explosive "When The Sky Falls" and the catchy "Walk This Road Alone". Both deserve your attention and more than one spin if they don't catch you right away. Believe me, those songs will grow on you quite fast.
With that said, it's easy to state that Magnus Karlsson's Freefall comes as one of the best surprises of the year. Not only the vocalists were carefully chosen, the songs selected for each one of them were perfect. Also, the mix between metal and melodic rock is taken to the limit and that alone is enough to please fans of both styles.
"Kingdom Of Rock" is one hell of a catchy album and it deserves a place in your collection. The albums will be out on November 6th, via Frontiers Records.
Categories: Album Reviews