| | |
| --- | --- |
| Posted on October 28, 2015 at 4:15 AM | |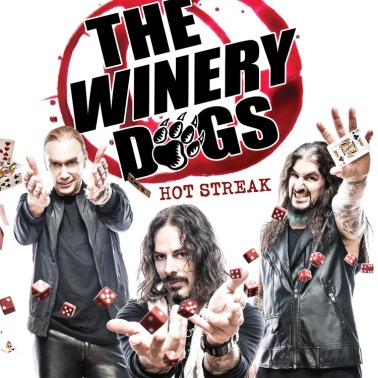 The Winery Dogs – Hot Streak
Written by The Rock Man
When The Winery Dogs released their self titled debut album in 2013 I really wasn't expecting too much from it. To be totally honest I was wasn't expecting anything at all but as it turned out, it ended up being one of the must-have hard rock albums of that year. So when an album comes along that sets a high benchmark on the first attempt I always become wary that the follow up may be a letdown. But in the case of The Winery Dogs there was no need for concern as this power trio have put together a stunning collection of material for their sophomore release Hot Streak.
The saying goes that lightning never strikes twice; clearly The Winery Dogs have never heard this saying as they not only produce a record that is equal in every way to the debut album, but in many ways pushes themselves to new levels I wasn't sure they would go. Sure, they could have just released the same album again and a lot of people would have been fine with that, but I get the feeling this isn't the band's style and they are most comfortable with the challenge of surpassing what has come before. And surpass it they have….. in spades.
So with the album in my possession I press play and await what is to unfold. The opening few bars of Oblivion come roaring out of my speakers and I have to look twice at the album cover just to make sure this is The Winery Dogs and not Mr. Big. The track is unashamedly dripping with Mr. Big influences, which comes as no surprise since bassist Billy Sheehan is the architect of that aforementioned band and guitarist/vocalist Richie Kotzen had a brief stint with them also. The bass runs are 'classic' Sheehan, the drumming of Mike Portnoy is frantic and relentless and the vocals of Kotzen compliment this musical piece brilliantly, and with that, "Hot Streak" is off to the perfect start. Captain Love takes a more grinding and gritty '80s swagger approach and possibly a little AC/DC-ish for mine, certainly not what I expected to hear but then again, The Winery Dogs are happy to expand their boundaries and grow.
The title track follows next and without doubt Portnoy is the star of this track. He is given room to shine and takes it with stunning results as he weaves his way through different time signatures with great support from his fellow bandmates. The rockers continue with How Long and Empire then the album shifts down several gears with Fire. At this point the guys show that there is more to this band than technical and complex hard rock thunderbolts, here they strip everything down to basic acoustic guitar, subtle bass and a softer drumming application, piano and stirring harmonies.
Mind you, the foot doesn't stay off the gas for long with a string of heart pumpers: Ghost Town, The Bridge (which is very progressive in nature) and War Machine.  Spiral is a real highlight of the record, it combines psychedelic and hypnotic elements with multi-layered melodic harmonies on a bed of driving rock and its attitude stay with you long after the song has finished. Throughout the album traces of blues influence are always nearby, but more so on Think It Over and The Lamb.
Two years ago I was astonished at what this unlikely collaboration was able to produce on record. Two years on and I am bowled over at how this multi-talented trio have enhanced and developed their sound to create one of the best four or five albums to come out of this year. There is no doubt about it, The Winery Dogs are a phenomenal act and are on a hot streak at the moment; let's hope it continues for a very long time to come.
Categories: Album Reviews