| | |
| --- | --- |
| Posted on September 23, 2015 at 10:25 PM | |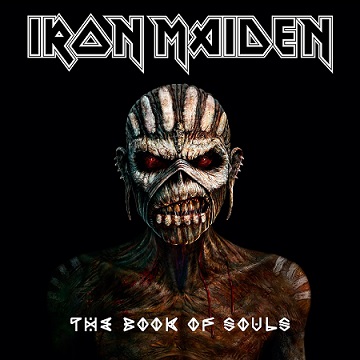 Iron Maiden – The Book Of Souls
Written by The Rock Man
After a five year absence iconic British metallers Iron Maiden have made a triumphant return to the world stage with a dazzling brand new album titled The Book of Souls…. Enough said really.
Okay, I'll elaborate a bit further. The Book Of Souls is Iron Maiden's sixteenth studio album and is another successful chapter in the band's remarkable 35 year recording career. However, this is the first time the band have released a two disc studio record; in its entirety The Book Of Souls clocks in at 1 hour and 32 minutes (there are some movies that don't run that long!) But from start to finish, Steve Harris (bass), Dave Murray/Adrian Smith/Janick Gers (guitars), Bruce Dickinson (vocals) and Nicko McBrain (drums) once again deliver a dynamic, consistent, breathtaking, well constructed opus.
The tone for the record is set with the opening track If Eternity Should Fail. The track draws heavily on the Mayan culture and this theme appears again from time to time throughout the track list, although The Book Of Souls is not a concept album. Speed Of Light is your typical garden variety first single. Full to the brim of throbbing bass, driving drums, that unique melodic guitar sound and razor sharp vocals. And in true Iron Maiden fashion it also has an awesome video too.
It has been well documented the groups interest in historical subject matter, particularly WW1 and WW2. Once again they venture into this territory as they hit the skies for another heroic air battle with Death Or Glory. My eyebrow rose slightly at the beginning of Shadows Of The Valley, the opening guitar riff sounded very similar to that of their 1986 single Wasted Years. However this is only brief and the song takes on a personality of its own.
Tears Of A Clown is another superb cut and Dickinson sees the track as a tribute to comedy legend Robin Williams. Of the song he has said "My favorite song is one I didn't write, it's 'Tears of a Clown,' which talks about Robin Williams. I ask myself how could he be so depressed when he always seemed to be so happy."
The band are no strangers to lengthy "epic" songs; and on The Book Of Souls they dish out three massive tunes, The Red And The Black, The Book Of Souls and the mammoth 18 minute running Empire Of The Clouds. I like my songs usually in the 3-4 minute region, short, sharp, straight to the point. So 18 minutes is a long time to get your point across, however Iron Maiden mange to hold my attention and do it successfully where other bands seem to fail. Empire Of The Clouds tells the tale of the British built airship the R101 which crashed on its maiden overseas flight in 1930 and a feature of the track is the stand out performance of Dickinson on piano.
For those who have been critical about veteran bands continuing to release new material claiming that no one wants to hear it and that they should retire with dignity and grace, The Book Of Souls is just further proof of how wrong they are on both counts. But as they say at the end of the credits in the CD booklet, "Come On You Irons!"
Categories: Album Reviews