| | |
| --- | --- |
| Posted on September 23, 2015 at 10:15 PM | |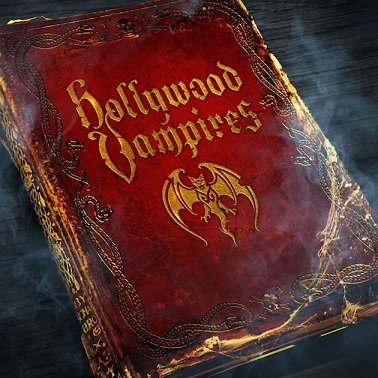 Hollywood Vampires – Hollywood Vampires
Written by The Rock Man
If you say to me that Alice Cooper is involved with any type on entertainment project then I am there. I don't need to know anything about it, just knowing Alice is involved is enough for me. So when I heard that the legendary shock rocker had gotten together with some of the biggest names in show business history such as Johnny Depp, Sir Christopher Lee, Joe Perry (Aerosmith), Brian Johnson (AC/DC), Dave Grohl (Foo Fighters) and Sir Paul McCartney, among others to record a new album under the Hollywood Vampires moniker, well, that sounds like a home run to me.
When you kick off your album with the dark underworld tones of Sir Christopher Lee on the monologue intro The Last Vampire, how can this be a bad thing? From here Hollywood Vampires sets the pace with Raise The Dead, a take no prisoners rocker featuring Johnny Depp/ Tommy Henriksen (Warlock/Doro) on guitars, Glen Sobel (Jeff Scott Soto/Impellitteri/Sixx: A.M.) on drums and Alice on vocals. There is no shortage of covers of The Who in this world, especially My Generation. Here Hollywood Vampires rock out another rendition that stacks up pretty well.
I know this may be blasphemy to some but I have never been a fan of Led Zeppelin. So I was surprised how much I enjoyed the Hollywood Vampires version of Whole Lotta Love, which sees Alice joined on vocals by Brian Johnson of AC/DC fame. The guitar work on this track from Johnny Depp, Joe Walsh (Eagles) and Australian's Orianthi give the track a character which I find lacking in the original. I Got A Line On You, originally recorded by Spirit has been covered by Alice previously. This time around the song gets a slight touch up but there aren't too many differences between the various versions. Still, it is an awesome song.
There are a couple of occasions were Hollywood Vampires combine two tracks for a mash up. An example of this is the homage to Harry Nilsson who wrote One (which had been covered by everybody) and Jump Into The Fire. This is s fun track as the first 1:10 sees Alice perform the creepiest, most psychedelic version of One you will hear and then out of left field Perry Farrell (Jane's Addiction) chimes in for a most upbeat rendition of Jump Into The Fire. And then there's School's Out/Another Brick In The Wall which Alice has incorporated into his live shows of late. Two iconic songs of the 1970's together on the one track, in what universe can this be wrong? Again Brian Johnson joins Alice on vocals with serious impact and adding further bite to the song is the guitar combo of Slash, Depp and Perry. The Small Faces 1967 hit Itchycoo Park is another track I have never really cared for previously. A number of quality bands have covered it over the years but none of them have fired my imagination … until now. For fans of Sir Paul McCartney he joins the band on Come And Get It providing vocals, bass and piano. With the help of Depp and Perry on guitars Hollywood Vampires really give this track a fresh modern sound.
To be honest, a fresh modern sound best describes the entire tracklist on this record. If these songs were available in their original form on any other recording it is fair to say I would have zero interest in them. However the fact that so many talented people have come together to join forces and realise a musical ambition and add a fresh approach is what stands this material out above other works.
Categories: Album Reviews