| | |
| --- | --- |
| Posted on September 23, 2015 at 10:00 PM | |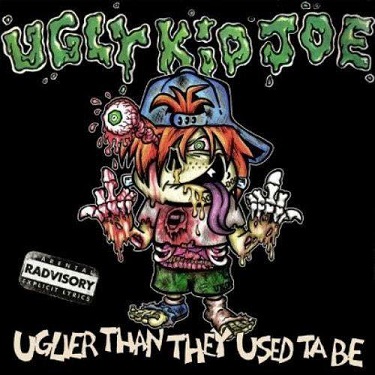 Ugly Kid Joe – Uglier Than They Used Ta Be
Written by The Rock Man
It has been 20 years since I last bought a product baring the name Ugly Kid Joe. That album was their 1995 release Menace To Sobriety which, for the most part, fell on deaf ears here in Australia. Prior to this the band had gotten medium radio coverage of their single Everything About You and the odd play of Neighbor, however it was Cats In The Cradle which took the country by storm. But, as was the case too often back then, once the novelty had worn off any interest in future releases was lacking. And unlike today where you can follow a band's progress on the internet, you had to rely on print media or radio to stay up-to-date with your favourite music and sadly by this stage the world didn't care anymore about this style of hard rock. So the information just wasn't there, especially in Australia.
As I would later discover the band released a follow up album in 1996 titled Hotel California and then disbanded from 1997 until 2010. In 2012 the boys released an EP titled Stairway To Hell which sparked interest in the group again among the hard rock fraternity. And now the heat is set to be turned up to high with their new scorching album Uglier Than They Used Ta Be.
Upon my first listen to Uglier Than They Used Ta Be my initial reaction was one of surprise. I was taken aback at how tight and sharp the playing was and amazed that after so long missing in action they sounded like they haven't missed a beat. Hell Ain't Hard To Find is an exceedingly solid opening track, mixing 1990's hard rock with modern day standards. From here the album quickly draws you in with the punchy rocker Let The Record Play and then elevates to a new level with the edgy, take no prisoners Bad Seed. One of the more surprising and interesting tracks on the record is Mirror The Man, which has a strong acoustic presents and wouldn't sound out of place on a Stone Temple Pilots or Alice In Chains record.
She's Already Gone may have a mellow acoustic opening but when it fires up, look out! The electric guitars kick in with a chunky swaggering riff and are accompanied by great melodic vocals from frontman Whitfield Crane. By this stage of the album it occurs to me that I had forgotten what a brilliant singer he is. The record continues on with Nothing Ever Changes, another strong acoustically driven track, the simplistic AC/DC style My Old Man and the edgy, gritty, moody and melancholy tune Under The Bottom. Ace Of Spades is a cover of the Motörhead classic and is faithful to the original both musically and vocally. A cool feature of the track is the addition of Motörhead guitarist Phil Campbell playing on the song. A version of the 1972 hit Papa Was A Rolling Stone by The Tempations closes out the album. I can't say that I have ever been a fan of the original but this is a pretty cool song. The Ugly Kid Joe version is gritty, dark, hypnotic and brooding in its attitude. The band are joined on vocals by Australian singer Dallas Frasca from the band of the same name. This inclusion adds a new found weight and character to the track and rounds out the record nicely.
Since the band's glory days of America's Least Wanted (1992) a whole new generation of rock fan has grown up possibly not knowing the artistry of Ugly Kid Joe. This can finally be rectified with Uglier Than They Used Ta Be and I must say, I for one am thrilled to have you back boys. Go forth and rock the people!
Categories: Album Reviews