| | |
| --- | --- |
| Posted on September 2, 2015 at 10:00 PM | |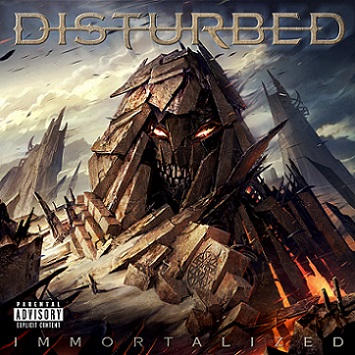 Disturbed – Immortalized
Written by The Rock Man
After a five year hiatus Chicago metallers Disturbed have returned to once again take their place as a giant of the modern metal scene. Immortalized is the band's sixth studio album and the first of all new material since 2010's Asylum.
From start to finish Immortalized is relentless and uncompromising. From a musical view point the guitar work of Dan Donegan has always been gritty, hard edged and full of melody; that trend continues on this offering. He also pulls double duty serving as the bass payer, covering for John Moyer who has been busy with his involvement in other side projects. The drumming of Mike Wengren is solid as always and lays down a strong foundation for the band to build its brand of hard rock upon. Another highlight of the band's music is vocalist David Draiman's thought provoking lyrics which range from social commentary, world injustices, war, insanity, relationships, personal experiences and perceptions more often than not shrouded in cryptic haze.
The album begins with The Eye Of The Storm which is just a short electric guitar piece that serves as a lead in to the title track. This is where the album takes off as the song Immortalized explodes into life through a wall of chugging guitar and Draiman's razor sharp vocals. The Vengeful One follows next and from here the pace and rhythm of the album is set. This is the first single from the album and showcases the best this band has to offer, it is also accompanied with an awesome video as well. As the album unfolds from one track to the next the quality of the work does not diminish as Disturbed churn out one rock showpiece after another with cuts such as Open Your Eyes, The Light, What Are You Waiting For and Never Wrong.
You're Mine must have been written with radio in mind. I would be staggered if this track is not released as a single at some point. This has all the hallmarks that radio look for: it is big on the melodic chorus, grooves along at a solid pace and is made to be played loud in the car. On Fire It Up, Draiman pays homage to cannabis, which he has been more than happy to discuss and the use of it in his songwriting process.
What took me by surprise is the band's interpretation of the Simon and Garfunkel classic, The Sound Of Silence. A cover out of left field isn't something new for this band, they have had form in this area before but what struck me about this track was how emotionally moving, soul-stirring and big this performance sounded. Who Taught You How To Hate brings the standard edition to a close. Here Draiman tackles violence, hatred and racism head on as he asks "What did I do?/Why do I deserve this?/So we're different/Why do I deserve to die now?/Give me a reason why?" and "Somebody taught you how to hate/When you live this way/You become dead to everyone".
If the standard edition isn't enough, the deluxe edition contains a further three bonus tracks which also pack a mighty punch and are worth the money. The pick of the bunch here is Legion Of Monsters where the band shines a spot light on the media glorification of violent crimes.
Indeed, in my opinion, Immortalized is worth every dollar of its asking price. I would even go as far as to say this record should be seen as a welcomed addition to the collection of any fan of quality hard rock/metal workmanship, whether you are a Disturbed fan or not. Personally, I am hoping that if the next record is as good as Immortalized that I do not have to wait another five years to hear it. Great job lads, an outstanding achievement.
Categories: Album Reviews