| | |
| --- | --- |
| Posted on September 2, 2015 at 9:25 PM | |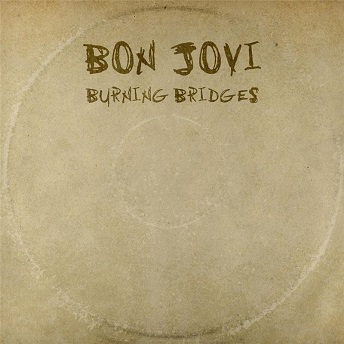 Bon Jovi – Burning Bridges
Written by The Rock Man
Okay, just go with me on this for a second and I am sure you will see my point. During the 1970s/80s in Australia and New Zealand there was a popular drink called Claytons. This was a non-alcoholic, non-carbonated beverage which looked a little like bottled whiskey. I remember the advertising campaign was on high rotation on television and rather clever too; the slogan went: "Claytons, the drink you have when you're not having a drink". Naturally this slogan took off and people started using it in everyday situations. So here I am in 2015 about to use it to describe Bon Jovi's new offering Burning Bridges, which for all intents and purposes is a "Claytons" record; the album you release when you are not releasing a full scale new album.
The word coming from the Bon Jovi camp is that Burning Bridges is an album for the "fans" featuring a collection of songs that have been sitting on the shelf or simply didn't make it on any of their studio records. So to be honest I am not really sure how this release differs to 100,000 Bon Jovi Fans Can't Be Wrong which also featured unreleased material on a four disc box set. However, unlike that product which also gave you a full colour booklet of band photos, liner notes and information, Burning Bridges looks like something that was put together using Print shop and features next to no production credits or band photos whatsoever. But superficial issues aside, what of the music?
The album kicks off with the moody, intense and hypnotic A Teardrop To The Sea, which while a solid song, doesn't quite tick all the boxes I think an opening song should be. In my world, a view I hold strong to is that the opening couple of songs should knock you on your ass; A Teardrop To The Sea just does not do that and would have made more sense further down the track listing. We Don't Run (a newly written song) on the other hand, would have been my selection to kick off this collection of tunes. This track not only kicks your ass but comes back for a second helping and maybe is a hint of what the post Richie Sambora era will sound like.
Saturday Night Gave Me Sunday Morning  is the tougher, older cousin of Someday I'll Be Saturday Night and easily falls under the "vintage" sound of the band. We All Fall Down is an upbeat acoustic dominated rocker which features Jon Bon Jovi's dependable, positive, the-glass-is-half-full lyrics which have become the hallmark of the band's music.
In the middle part of the record there is a batch of songs which change the mood of the record led by the haunting, piano driven Blind Love. Initially I really didn't think much of this song but after a handful of listens my opinion has changed and I now find I have fallen for its charm. Who Would You Die For starts off slowly but is worth sticking with as it picks up about a minute or so in and the soulful guitar playing is a real feature of this track.
Have you ever wondered what the Eagles would sound like if they were a harder, edgier band? No neither have I, but Fingerprints kind of gives you an idea. Life Is Beautiful and I'm Your Man once again puts the band back into "vintage" mode while rounding out this 41 minute journey through various musical approaches is the title track. Here Jon spells out in no uncertain terms his thoughts on parting ways with record label Mercury after 32 years of business together.
Burning Bridges  is exactly what Jon said it would be: an album "For the fans".  I doubt this will be a big seller for the band but it is only a stop gap while we wait for the release of the "real" new album in 2016. As a lifetime fan I am curious to see what they have in store.
Categories: Album Reviews