| | |
| --- | --- |
| Posted on August 5, 2015 at 6:20 PM | |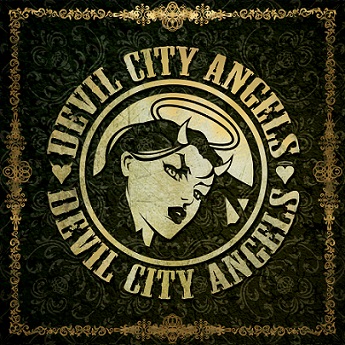 Devil City Angels – Devil City Angels
Written by The Rock Man
Isn't it funny how the simple things are often the best? Take for example a seemingly nothing to it idea for two rock buddies, Tracii Guns (L.A. Guns) and Rikki Rocket (Poison), to get together and jam at a Keith Moon/Jon Entwistle Tribute show in 2014. During that same jam session they would be joined by Cinderella bassist Eric Brittingham and from that simple fun performance the seeds would be sown for a hot new collaboration called Devil City Angels.
These three veterans of the 1980's hard rock scene would come together with vocalist Brandon Gibbs (The Gibbs Brothers/Cheap Thrill) to form a musical force not to be underestimated. When a group of musicians completely enjoys each other's company it really shines through in their music, and for Devil City Angels the proof of that is in their debut self titled album.
Devil City Angels is a hard rock and blues fuel injected major event. From start to finish this album is dripping with smooth moody bass, swagger laden drum grooves, raucous and hypnotic guitar riffs and powerhouse vocals. Each member brings something different and unique to the table but the end result is simply stunning.
The album boasts a number of standout cuts such as album opener Numb, which from minute one drags you in with its funky, euphoric rock style. All My People follows in a similar vein and, as the first song written by the group, it is easy to see where this band was headed sonically. Special mention goes out to the emotionally powerful and heartfelt Goodbye Forever, which is the only ballad-ish track on the record. Surprisingly there isn't a strong L.A. Guns/Poison influence on this album as one might think; the closest thing we come to in that regard are the tracks Back To The Drive and Bad Decisions which wrap up the record and close it out nicely.
As for the players, let's start with frontman Brandon Gibb. This is my first experience with Gibb and it has been a very impressive first impression. His tone, range and vocal approach are A-class quality and for mine, bared a striking resemblance to Default vocalist Dallas Smith with a sprinkling of Foreigner's Kelly Hansen for good measure. Whether you are a fan or not, everyone knows the impact axeman Tracii Guns has had on the hard rock scene. The same can also be said for drummer Rikki Rocket and together they are the driving force behind this fresh, energetic and uncomplicated project. Devil City Angels has been further strengthened by the inclusion of bass legend Rudy Sarzo (Whitesnake/Ozzy Osbourne/Quiet Riot) who takes over from Eric Brittingham who left the band shortly after recording was complete.
Over the course of this 10 track/40 minute recording don't expect anything deep, meaningful or complex; you are not going to find the answers of the universe here, this isn't Dream Theater people. Like I said at the start, the simple things are often the best and this is a solid lesson in how to produce straight forward, enthusiastic, good time rock and roll. Devil City Angels may be simple but it is its simplicity that by far is its greatest strength.
Categories: Album Reviews