| | |
| --- | --- |
| Posted on August 5, 2015 at 12:45 AM | |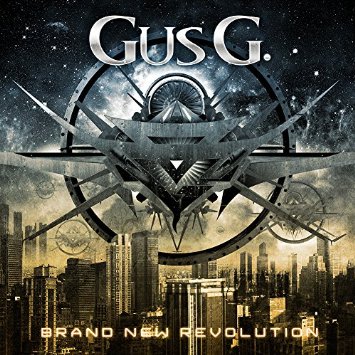 Gus G – Brand New Revolution
Written by Dave Smiles
Gus G has never been one to sit still and wait for things to happen. His own band Firewind have released seven albums. He's been a member of bands such as Mystic Prophecy, Nightrage, Arch Enemy and Dream Evil and he's also the current member of Ozzy Osbourne's band; and if that wasn't enough for the virtuoso guitarist he's now well on the way to establishing a successful solo career for himself with the release of his second album Brand New Revolution.
The album opens with an instrumental, The Quest, which is a trailblazer in every sense of the word and has a killer mid-section breakdown. Its various layers and sections drag you in and set things up for what's to come. Its acoustic outro is pretty impressive as well. There's no doubt that guitarists are going to love this, but the energy and the structure are going to appeal to anyone who is a fan of creative music.
With many of the guest vocalists that featured on Gus G's first solo album, I Am The Fire, returning it seems that the chemistry within and the familiarity of each other's strengths have come together to heighten the performances. The results are better song writing, more diverse songs and a stronger vibe of this being a band rather than just a bunch of guest coming in for their own parts. If you enjoyed I Am The Fire you're going to love this one.
Jacob Bunton, from Adler and Lynam, contributes to five tracks. Brand New Revolution, Burn, We Are One; and the ballads Behind Those Eyes, and One More Try. Overall, these songs are grand in nature with anthemic choruses and catchy lyrics.
Jeff Scott Soto, of Tailsman and Journey, handles the melodic and paced Gone To Stay and Generation G, which has an instantly memorable riff and some smooth transitions within the song structure.
Mats Leven, of Yngwie Malmsteen fame, sings on the neck breaking Come Hell or High Water, If It Ends Today and The Demon Inside, both of which have various textures and feels within.
Amaranthe singer Elize Ryd makes her mark on the album with one song, What Lies Below. A dark and ominous song that feels like it would be at home on an Alice In Chains album.
Since Gus is such an accomplished guitarist, his skills could overshadow the songs, like as so many of these guitar virtuoso albums run the danger of doing. By continuing to work with guest vocalists he has managed to create songs with great guitar playing, rather than great guitar playing turned into songs.
With such a quick follow up from last year's I Am The Fire you might think that Brand New Revolution is a rush job, or that it's leftovers. This is, however, a second helping of the main course and it leaves you wondering what else does this smorgasbord have to offer?
Bring on the next album.
Categories: Album Reviews