| | |
| --- | --- |
| Posted on August 5, 2015 at 12:25 AM | |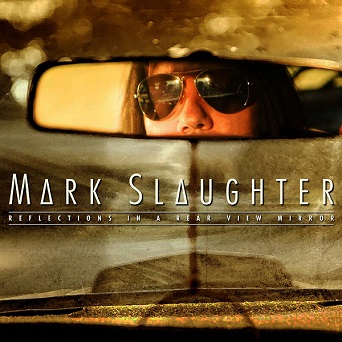 Mark Slaughter – Reflections In A Rear View Mirror
Written by Julia Pope
Fun - that's the one word I can best describe Mark Slaughter's music.  It says, "Let your hair hang down."  This message is transparent in the well-known 1990 hit "Up All Night" from Slaughter's debut album Stick It To Ya, and in "Shake This Place" and "Move To The Music," my two favorites from their sophomore album The Wild Life.  In my humble opinion, "Up all night, sleep all day" will always be synonymous with Mark Slaughter's name, like "To Hell With The Devil" with Michael Sweet's.
Slaughter's voice and broad vocal range have always fascinated me.  For those of you who have known Slaughter since day one, you know such songs as "Real Love" and "Do Ya Know?" And you cannot overlook that scream before the instrumental break in "Fly To The Angels." That just beats all.
Rock ballads from that era have always had their more or less mushy qualities about them.  As for Mark's style, he always seemed to have a meter that was just as broad as his vocal range.  If his heart was broken, if he was really searching for that one someone, or if he was really mad at a girl for what she did, you knew it.  You heard anything from as subtle as "Street Of Broken Hearts" and "Real Love," to "Mad About You" and "Burning Bridges" (how about that mocking dialogue, too?).  And sometimes he had a little tender "ooh" to go with it. 
Well, those are my reflections in a rearview mirror, Slaughter style. How about Mark's, now? 
First of all, the first things you hear are sound effects and Mark's ever-strong voice.  So, this CD is already off to a good start.  "Away I Go" might be the "Up All Night" of Mark's solo career, in that its sound effects are not only at the beginning and end of the song, but they complement it.  One clever vocal was the soldiers in "Never Givin' Up," especially in the last minute of the song.
I wasn't able to find the name of the female backup vocalist in "Don't Turn Away?"  It reminded me of when Mark Slaughter did the same thing for Chrissy Steele in "Love Don't Last Forever"?  If Mark's career is anything to go by, there's a bright ahead for that young lady.
 "Somewhere Isn't Here" is that "fun" song with that "let your hair hang down" message.  I have a feeling a Facebook status inspired him to write the first two lines, and Mark just took off from there.   
Going back briefly once again to the Stick It To Ya era, another of my favorites on there is "Spend My Life."  It's one of those more "mellow" songs on there - as mellow as he could get, to be completely honest.  But he got even more so in "The Real Thing."  There's a lot I could say, but I'll just say he got deeper.
Deep, a word I love using - and maybe I use it too much when it comes to expressing a strong emotion.  Here, Mark has a song called "Deep In Her Heart."  Let's just say he goes deeper than Jani went in Warrant's 1989 hit "Sometimes She Cries."  Crying, a beat of a heart, rain; the only thing lacking is pages of a book.  But I'll help with that.  You can count on me.
If I had to pick the most Slaughter-like song on Reflections, it would have to be "Velcro Jesus."  Seriously!  If someone cued this up while I had my eyes closed, I thought this was either an unreleased Slaughter song from back in the day, or a song by them I never knew.  Mark, please consider that a compliment.  And….oh! What a great guitar solo at the end!  It took my breath away, I got goosebumps.
Even without former bandmates Blas Elias, Dana Strum, and the late Tim Kelly, and a few decades on him (and us, too), Mark still has it.  I guess he had to have his last name as the name of a band, and his career takes off. 
Categories: Album Reviews