| | |
| --- | --- |
| Posted on July 13, 2015 at 1:05 AM | |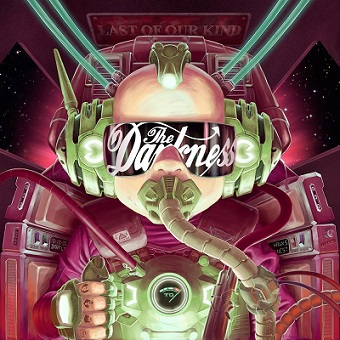 The Darkness – Last Of Our Kind
Written by The Rock Man
The Darkness are bloody brilliant! In a time when the likes of Justin Timerlake, Beyonce, Christina Aguilera and Jennifer Lopez are dominating the radio air waves, along comes this four piece band from Britian proudly waving a banner hailing '70's and '80's glam rock. This is also a middle finger salute to a world that does not believe there is a place in mainstream entertainment anymore for this style of bold, outrageous performers. The band would enjoy commercial success with its debut album Permission To Land (2003) and would continue that success with the follow up release One Way Ticket … To Hell And Back (2005). After a few years of hiatus the band would return in 2012 with its third studio album Hot Cakes, but now The Darkness have raised the stakes with their new disc Last Of Our Kind.
Let's not beat around the bush here, Last Of Our Kind is a 10 track/42 minute hard rock masterpiece. I love 10 track albums, mainly because there is no time to be wasted on them. It is critical that nothing but the best material is selected and on Last Of Our Kind that is exactly what The Darkness have done. Another reason is they get to the point quickly and don't drag on, something The Darkness do well with most songs in the 3:30/4:30 minute running time range.
We get under way with Barbarian, which tells the tale of Edmund the Martyr and the Viking invasion of East Anglia. Everything you could possible want on a Darkness song is here in abundance, catchy guitar hooks, chest pounding drums and vocal acrobatics, all the hallmarks of the band. The animated video for the track is pretty awesome too. From here the lads launch into Open Fire, again, more killer riffs and vocal harmonies on this full paced rocker which further solidifies the band's sound. The title song is an outstanding blend of acoustic and electric guitar and is quite melodic and punchy in its delivery, a real standout track. Roaring Waters comfortably tows the line of the opening few tracks and then the band shifts down a couple of gears with Wheels Of The Machine, which is the closest thing to a ballad you will find here.
The real surprise on this record, for me anyway, was Mighty Wings. Here The Darkness presents sludgy, darker guitar tones. It is not quite John 5 territory but it is definitely new and heavier ground. Sarah O' Sarah, complete with mandolin, could have easily made the cut on either of the band's first two offerings and the Rolling Stones-ish, clap a-long Hammer & Tongs starts winding the album down. The album comes to a close with Conquerors which, for something different, features bassist Frankie Poullain on lead vocals. This opens the door for future vocal change ups going forward and once again, utilises a nice balance of acoustic and electric guitar coupled with melodic vocal harmonies.
Vocalist/songwriter/guitarist Justin Hawkins puts in another quality effort as you would expect from someone of his talents. His brother, Dan, brings some very impressive lead guitar work to the table as well as doing a fine job as album producer. The addition of Emily Dolan Davies on drums, replacing original drummer Ed Graham is a masterstroke. Her style and attitude really add a slightly heavier edge and backbone to the material; she also contributed the track Mudslide. It is a shame she left after recording the album to pursue other opportunities
Prior to the album's release I heard Hawkins describe the new work as "brutal" and "medieval-rock", to me that suggested they were venturing down a new path but upon hearing Last Of Our Kind my mind has been put at ease. This is The Darkness in their full, glam rock glory but pushed to a new level, but maybe Hawkins was right, Last Of Our Kind is brutal…. brutally awesome and quite possibly the best album you will hear all year.
Categories: Album Reviews