| | |
| --- | --- |
| Posted on July 13, 2015 at 12:50 AM | |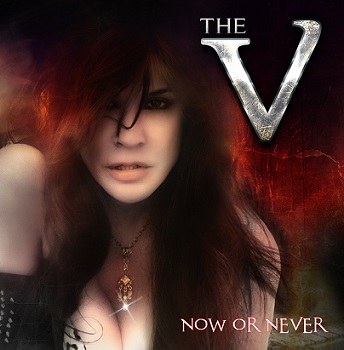 THE V – Now Or Never
Written by The Rock Man
The idea is this: Take a singer from an established band, put them together with handpicked musicians, record an album of pre-written material that is nothing like what they have sung before, stir, and fingers crossed, it comes out sounding like a masterstroke move. In recent times this has been the thinking of Frontiers Records boss Serafino Perugino with great success on several project. The latest to fall under this umbrella is called THE V and the album is titled Now Or Never.
Veronica Freeman from American heavy metallers Benedictum is the star attraction in THE V. She was approached to be the front woman of this project with a number of musicians from the hard rock/metal community coming together to contribute on the record. And it has to be said, these aren't nobodies that appear on this, there are some heavy hitters present here. Names like Jeff Pilson (Dokken/Foreigner), Michael Sweet (Stryper), Leather Leone (Chastain), Jerry Dixon (Warrant), Tony Martin (Black Sabbath), Mike Lepond (Symphony X) and many others all contribute in one form or another and the results are simply stunning.
The thought process behind this solo outing was to create an amazing melodic hard rock record and to take Freeman out of her metal comfort zone, but from what I have heard she sounds very comfortable with this genre to me. The record gets underway with Again which screams 1980's hard rock and took me straight to thoughts of Dokken. The title track is a melodic guitar driven monster that lingers in your mind long after the song is finished, while Roller Coaster will sit comfortably with the sleaze rock crowd. Line In The Sand is the standard "Stand your ground and fight for what you believe in" track which can always be found on these types of records, and as they often do, it makes you believe every word you sing as you fist pump the air.
Kiss My Lips is a powerful and dynamic duet with Leather Leone which I thought ventures into Lee Aaron territory at times, both vocal performances shine on this cut. Starshine delivers a strong positive message on a bed of Boston-esque arrangements. Toward the backend of the record comes the double bass drum steam train Ready To Run. Talk about '80's hard rock/metal, every band back then had one of these songs in their arsenal and this track is a full on, fist in the air salute to a glorious time in music history. Then bringing the album to an end is the Tony Martin duet Kind For A Day which is the heaviest track on the album with some awesome gritty guitar and bass. The strong vocal arrangements from Martin and Freeman complement each other as well, which brings added strength to the track.
Once again it appears that Serafino and his team at Frontiers has turned out a winner. Every aspect of Now Or Never is executed very well, from the songwritting, to the musicianship, to the production and especially the vocal performance. If you are in the mood for a trip back to the 1980's then this collection of material will get the job done, THE V – Now Or Never is without doubt a dynamite record.
Categories: Album Reviews