| | |
| --- | --- |
| Posted on July 13, 2015 at 12:40 AM | |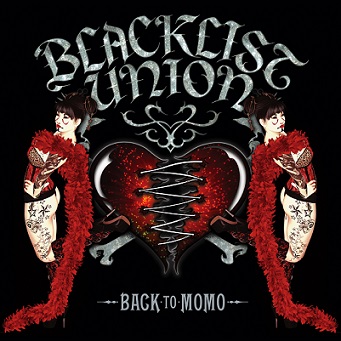 Blacklist Union – Back To Momo
Written by The Rock Man
Around 2007/8 something really important on the musical world stage started to take place. The musical landscape which had been dominated for so long by Pop Divas, Rap Gangster wannabes and Emo rockers was starting to enjoy a resurgence of good old fashioned, party Rock & Roll. Many bands that were stopped dead in their tracks during the grunge movement of the 1990's were starting to get back together and a feeling for that style of good time hard rock was once again in the air. Since then most, if not all, of those bands have sustained a high level of success as they enjoy a second chance, if you will, while other bands have grown from the seeds they have sown and flourished in their own right. One band that fits this category is Los Angeles rockers Blacklist Union.
While not a house hold name, Blacklist Union have been part of the hard rock scene for a while. The band was formed by front man Tony West in 2004 and it did not take long for the band to have their first album, After The Mourning recorded and available in 2006. Two more albums, Breakin' Bread With The Devil and Til Death Do Us Part would follow and continue the band's development, but in 2015 the band takes their biggest leap forward with the release of their new body of work titled Back To Momo.
Back To Momo is a 14 track feel good experience clocking in at 50 minutes. Fans of that whole Motley Crue/L.A. Guns/Faster Pussycat/sleaze rock vibe will be left in ecstasy with the quality of work on offer here. The first single from the album, Alive N' Well Smack In The Middle Of Hell gets this party started and can only be described as a no holds barred, melodic driven, toe tapping salute to the glory days of the 1980's Sunset Strip scene. The video clip is pretty cool too and features everything you could want in a clip from a band of this nature. An '80's looking band rocking out with girls, girls and even more girls in fishnet stockings and denim dancing seductively. The album continues on with Shake It Off, (and no, this is not related to the Taylor Swift song in any way) which ups the ante on melodic punch, groove and swagger. And this attitude is matched on several other tracks throughout the album such as Mirror, Mirror On The Wall, Meet Me On Zen Street and Wined, Dined & 69'd.
As an Australian it was a real pleasure to hear their take on an Aussie rock classic, Rose Tattoo's Rock N' Roll Outlaw. There are a few versions of this going around but I found Blacklist Union's to be one of the better ones out there; respectful to the original whilst adding their own flavour. Superjaded, I would think, is a candidate for the next single and if it isn't then it should be. This is a song with great vocal harmonies, layered melodic guitar and a solid groove which rocks you in your seat. If none of that gets you in then Evil Eye and the title track certainly will and once they have their hooks in you they won't let go. Especially the title track which has this guitar riff at the beginning which took me back to early Kiss in style.
The fact that Blacklist Union are not global superstars is staggering. They offer the best of everything that the Hollywood hard rock scene had to offer back in the day but with a modern attitude. I suspect it won't take long for the rest of the world to jump on this fast rising rocket ship.
Categories: Album Reviews