| | |
| --- | --- |
| Posted on June 12, 2015 at 2:00 AM | |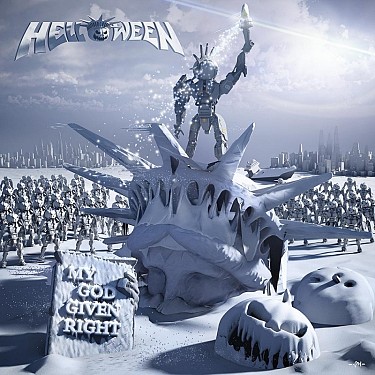 Helloween – My God Given Right
Written by Dave Smiles
Wow, it seems like just yesterday I was reviewing Straight Out of Hell for Full Throttle Rock and now here we are with the new Helloween album. My God Given Right shows the band in top form, perhaps due to this being the first time they've had the same line up for five consecutive releases, or perhaps it is due to a nostalgic vibe brought about by this year being the thirtieth anniversary of their debut EP. While the band hardly deviates from what you'd expect from them, this is not a rehash of what has come before. Far from it. The band know their voice and have written one of the strongest releases to their name.
The title track, My God Given Right, with its simple yet powerful concept is just one of the great examples of how this band knows how to structure their songs with elements of heavy and mellow to bring texture and interest to the listener. This is typical Helloween, as is the feeling throughout the album of embracing your life and what you do with it. Stay Crazy is one such track, and I have to say this one has some pretty cool tempo changes in its mid-section and the characteristic harmonised solos are some of the best in the band's history.
As well as being Masters of rings, Helloween has always been masters of writing songs with very melodic hooks, Russian Roulé is this albums stand out in this regards. An upbeat, moderate metal romp that is bound to be a fan favourite. This song will be awesome live. Furthermore, while age sometimes catches up with many singers, Andi Deris' voice remains as strong as ever and this track gives him a great work out. Lost In America has some killer instrumentality to it with the double bass drumming, sixteenth note chugging, which contrasts nicely with its catchy almost pop-ish chorus. This could be a single.
Like Everybody Else is a laid back semi - ballad filled with the Helloween spirit of forging ahead against the barriers of other people's expectations and needs to follow the norm.
It has been said that Helloween may not have technically invented power metal, but they certainly perfected it. When you are the pioneers of a genre there will always be detractors who expect you to change with the times. Helloween have stuck to their guns, and their pumpkins, over the years and due to that they are still going strong and continuing a career that many others could only dream of. My God Given Right is a perfect album to mark the band's thirtieth anniversary.
Categories: Album Reviews