| | |
| --- | --- |
| Posted on June 9, 2015 at 7:40 PM | |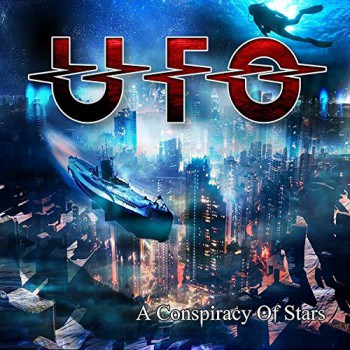 UFO – A Conspiracy Of Stars
Written by The Rock Man
Iconic British rockers UFO are one of those bands I should follow more than I do. While I do have several of their albums, there are gaps in my collection and I cannot explain why. Sometimes I am excited when they release a new album; sometimes I am not. In fact the last time I bought a UFO record was 2009's The Visitor. So after not listening to anything that the band has produced in recent times why was I so excited about hearing the band's new disc A Conspiracy Of Stars? Again I do not know, but I am so pleased I did.
A Conspiracy Of Stars is the band's 21st studio album and you do not get to make that many albums unless you are doing something right over a very long period of time. For me, the key is this: know what brought you to the dance and stick with it. UFO do that successfully time and time again and that trend continues on A Conspiracy Of Stars. In a nutshell the album is 11 tracks, running at 51 minutes of uncomplicated, straight ahead, catchy, blues based hard rock and roll reflective of a day long passed.
The Killing Kind gets this album underway with its punchy guitar riff opening and thunderous drum fill accompaniment. The track quickly settles into a nice swinging rock and roll swagger and you know from this point on you are in for a real good time on this record. Run Boy Run does not disappoint either and continues a long line of UFO groove laden heavy rockers which the band has become famous for over their 40+ year career. Ballad Of The Left Hand Gun is a blues driven masterpiece with some seriously good story telling added for good measure, this approach continues to serve the band well in the next track, Sugar Cane. In fact the song writing on this entire album can only be described as top shelf quality. I found Devil's In The Detail to be a real highlight at the half way point of the record with its chugging guitar riffage and loads of melody.
The Real Deal is just that: a cool sophisticated rocker which could have featured on any number of previous albums, say, over the past fifteen years. One And Only has got the lot; heavy melodic electric guitar, subtle bar room piano melodies, well executes vocal harmonies, a punchy rhythm section and a sprinkling of slide guitar. The band revisit the groove laden heavy rocker formula on Messiah Of Love and then round out things nicely on the mood shifting Rolling Rolling and the foot stomping King Of The Hill.
Since joining the band in mid-2003 guitarist Vinnie Moore has brought with him a real blues influenced approach combined with a style reminiscent of the 1980s and surely should be regarded among the top echelon of guitar players. His performance on A Conspiracy Of Stars is testimony to that. I tend to think that frontman Phil Mogg is often forgotten or even underrated by music fans and critics compared to his contemporises like Bruce Dickenson, Rob Halford, David Coverdale and Joe Elliott, but make no mistake Mogg is a superstar and does not live in anyone's shadow. And then rounding out the group is drummer Andy Park and keyboardist/rhythm guitarist Paul Raymond, who over the journey have both spent time in and out of the band. But here is one undeniable fact, UFO is always a much better band when they are involved, again the proof is right there for all to hear on A Conspiracy Of Stars. In short, this is an impressive band performance.
In fact I am so impressed by every aspect of A Conspiracy Of Stars I think I will finally go and fill in some of those gaps in my collection.
Categories: Album Reviews