| | |
| --- | --- |
| Posted on June 9, 2015 at 7:35 PM | |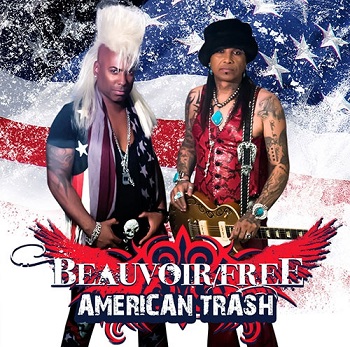 Beauvoir Free – American Trash
Written by Juliano Mallon
If you have been around a while I am sure the names Jean Beauvoir and Micki Free sound damn familiar, not only for the many albums they worked in separately, but mostly because of Crown Of Thorns, the band they created back in the early 90's.
Free left the band in 1993 and now, a little over two decades, he is back with Beauvoir under the monicker Beauvoir Free, a project that rescue the good ol' hard rock they crafted so well when working together. With full creative autonomy, they came up with a powerful set of songs that ignates "American Trash", one hell of an album that couldn't go wrong even if they wanted it to.
Mostly comprosed of rockers, the album is packed with powerful guitars and soaring vocals as one can infer from listening (with volume pushed up to 11, if possible) such songs as "American Trash", "Whiplash", "Shotgun To The Heart" and "It's Never Too Late", an explosive, heart-stopping radio friendly rocker! It is no coincidence I rank all these tracks as highlights of the album.
Besides that, the catchy rocker "There's No Starting Over", the thrilling mid-pacer "Never Give Up" and the beautiful power ballad "Just Breathe" are easily noted as highlights of the album and, therefore, worthy of your total attention.
But there is more: such rockers as "Angels Cry", "Morning After" and "Cold Dark December" sound really interesting and even if they don't appeal to you at first, you should definitely give them a second (or even third) spin. More careful auditions might reveal some not-so-evident qualities.
So, summing up, there is no way to deny that "American Trash" is one of the best and most convincing releases of 2015. In this time and age, when hard rock sounds more and more standartized and recycled (in a bad way, I mean), it is a bliss to hear an honest album, carrying a strong and well-defined muscial identity revealed in generous doses of talent.
Categories: Album Reviews