| | |
| --- | --- |
| Posted on June 9, 2015 at 7:25 PM | |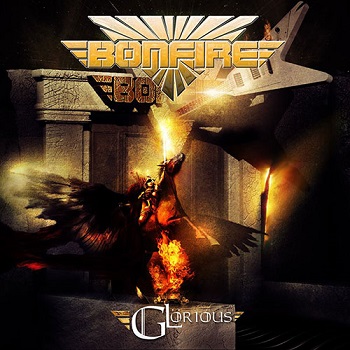 Bonfire – Glorious
Written by The Rock Man
For as long as I can remember Germany has had the ability to consistently develop and cultivate exceptional hard rock and metal acts. The talent that has emerged from that part of the world is mind-blowing; artists like Accept, Scorpions, Doro, Michael Schenker Group, Helloween, Edguy and countless others. Another band that can sit proudly among this honour roll of German superstars is Bonfire.
2015 sees the return of these edgy melodic hard rock giants with a stunning new collection of material titled Glorious. It also sees the band go through some major line-up changes with Ronnie Parkes replacing Uwe Kohler on bass, and guitarist Frank Pane taking over from Chris Limburg. But the biggest change sees original vocalist Claus Lessman leave the band to pursue other musical ventures. His replacement is journeyman David Reece (Bangalore Choir/Tango Down/Accept) who joins original member Hans Ziller on guitar and current drummer Harry Reischmann for this new incarnation of the band. And while the band members may have changed, the same Bonfire spirit and attitude which we have grown accustomed to for almost three decades is still intact.
This is an important point because so often when a band goes through the slightest of changes, let alone a major reshuffle, the dynamic of the band can change significantly. However this is not the case here and the band should be applauded for enlisting musicians that can respect what has come before and work within the established Bonfire branding
So what of the music on this 14 track/68 minute hard rock battering ram? Well, I could not think of a better way to kick off the new Reece led version of the band than with the track 21 Gun Salute. Here Ziller's identifiable, heavy, melodic guitar style really comes to the fore as does the bass of Parkes who punches a hole in your chest. Instantly any concerns you may have had about this album quickly evaporate. The heavy rock cuts continue with Nothin' At All, Can't Break Away, Supernatural Disguise and Put Out The Flames. Naturally, no good hard rock album is complete without its fair share of power ballads and acoustic driven monsters, on Glorious the band cover this well with the likes of Fallin' Outta Love, Shooting Star and Lies.
The album starts to wind up with reimaged versions of Sweet Obsession and American Nights, two classic tracks from their 1980's period. While I found these new interpretations to be interesting and present the songs in a different light, for mine, you really cannot go past the originals. The record closes out with a cover of The Beatles – With A Little Help From My Friends, this is a track that I have heard covered many times and by many different style of artist and I am still yet to hear a version that I like. Sadly, and this is the only criticism I have here; this attempt has not changed my mind on the song.
Having said that, I found Glorious to be one of the surprise releases of the year so far and a most enjoyable experience. I have long been a fan of Bonfire and I have followed Reece over the years with his various projects and now I can combine the two, what an awesome outcome. I look forward to this new chapter of the band's career after hearing this album and I hope Reece can stay in the band long enough to make a significant contribution to their legacy. Glorious is a good start.
Categories: Album Reviews