| | |
| --- | --- |
| Posted on June 9, 2015 at 7:20 PM | |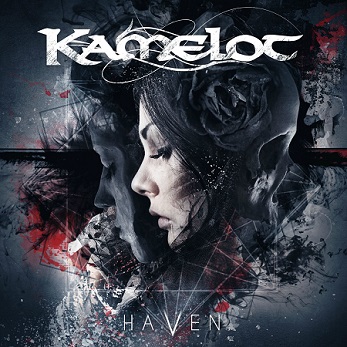 Kamelot – Haven
Written by Dave Smiles
Haven is the eleventh studio album from American Power Metal band Kamelot and is the second to feature Swedish vocalist Tommy Karevik. The band's previous release, concept album Silverthorn (2012), showed they would survive the transition of vocalists after the departure of their previous front man Roy Khan, with whom they had gained worldwide acclaim from both fans and critics alike.
This time around Kamelot have created a collection of 'theme' based songs rather than a concept album. The theme is that the world is escalating towards insanity and is expressed with artfully composed songs filled with impassioned performances from all musicians. The first single, Insomnia, is fantastically hook driven and memorable.
For over two decades Kamelot have been developing their style of melodic Prog-Metal, with haunting themes usually found within the Doom and Goth metal genres. The band boldly ventures into despair, isolation and mental illness, but unlike the aforementioned genres, Kamelot lace their songs with an overshadowing feeling that things will turn out okay. Album opener, Fallen Star, paints a cold and isolated picture for the listener.
Citizen Zero builds a sense of impending doom with its menacing paced riff, layered chorus and choir section. Fans of double bass drumming and melodic guitar / keyboard lines will enjoy Veil of Elysium. As characteristic to progressive metal the keyboards and guitars complement, and sometimes challenge, each other, while the drums and bass lay down a solid foundation and hold everything together. Add to this, the range of Karevik's vocals and the passion within his singing and you have some amazing and, at times, challenging music.
Under Grey Skies is a gentle song featuring Uilien pipes performed by Troy Donockley, who is now a member of Nightwish. This track also features vocalist Charlotte Wessels from Delain. Both guests bring a whole new vibe to Kamelot and help this song drive towards something grand by the songs completion.
The composition and song structure of Liar Liar (Wasteland Monarchy) shows how the band seamlessly switch from soft and beautiful to harsh and violent, tapping into various moods and emotions. Guest singer Alissa White-Gluz brings an extra dynamic to this grand opus.
All hell breaks loose in Revolution, yet Kamelot are masters of bringing space to even the most bombastic apocalyptic metal track. Within all the chaos of this track we may just find the shining light of hope, perhaps signifying that the most untamed inner strength always comes when things seem most bleak. White-Gluz also features in this track and I have to say she gave me chills! While I appreciate the musicianship of Arch Enemy they're not a band I listen to regularly, but used sporadically like in this track, her style of harsh death vocals can be remarkablyeffective. Her clean vocals are also impressive.
Two minute operatic album closer, Haven, is a nice way to bring things down to a calm state, leaving the listener with hope. This is very much cinematic, or perhaps theatric in structure and feel. Could it be that the art form of dramatist from times past could carry on within the traditions of metal?
Categories: Album Reviews