| | |
| --- | --- |
| Posted on May 19, 2015 at 1:20 AM | |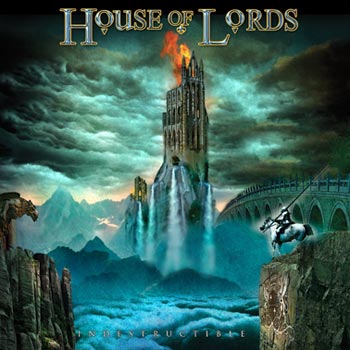 House Of Lords – Indestructible
Written by Juliano Mallon
Last year, House Of Lords surprised many fans with "Precious Metal", an awesome album that brought together the most traditional elements of the band's sound mixed with heavier, precisely distributed lines that pushed the sound of the band a bit over the edge, thus still sounding like a House Of Lords album. Well, with "Indestructible", James Christian and co. follow the very same pattern showing they're willing to go all the way down this recently found melodic road. The new album repeats the formula presented last year with a little more enphasis, but the band was careful enough to keep their musical identity intact.
This "new sound" is easily perceived in rockers such as "Go To Hell" and "Indestructible", as well as in "Die To Tell" and "Another Dawn", all four songs easily among the highlights of the album. Despite that heavier aura, they still sound 100% like the good ol' House Of Lords and that's why I recommend multiples listenings with the volume pushed to 11!
However, the exquisite "100 Mph" is a killer rocker that takes me back to the classic "Demons Down", especially when the chorus blasts through the speakers. Another great song that makes a bridge between the present and the past is "Pillar Of Salt", a moving mid-pacer with a powerful chorus like only the House Of Lords know how to come up with.
A very curious song – for me, that is – is the radio friendly "Call My Bluff", as I can hear very distinct elements from almost every House Of Lords album, displaying the best of their most traditional harmonies perfectly combined with the more contemporary bits they've embraced. The beautiful mid-pacer "Eye Of The Storm" displays the same features as the previous song, except for the radio friendly aspect.
Finally, "We Will Always Be One" is a poignant ballad with classic melody and structure, areas where House Of Lords feels very comfortable and, therefore, performs their duty flawlessly, in another highlight of the album.
Summing up, ladies and gentlemen, if you're not satisfied with this new musical path the House Of Lords decided to follow, too bad for you. With the awesome "Indestructible", the foursome shows they will invest a bit more in this new musical direction that allows them to create a scenario where present and past are very well represented and blended to perfection. I agree that there's a certain level of risk when a band decides to shift the direction of their music but, let's be reasonable, what the House Of Lords' been doing lately sounds a lot more like a natural evolution of their music than anything else.
With that said, I state that "Indestructible" is one of the highlights of 2015 and a mandatory acquisition to your collection.
Categories: Album Reviews