| | |
| --- | --- |
| Posted on May 19, 2015 at 1:10 AM | |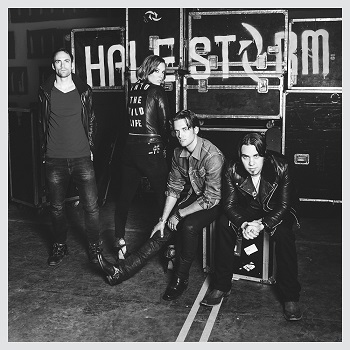 Halestorm – Into The Wild Life
Written by The Rock Man
Pennsylvanian rockers Halestorm are back; and they have brought their most ambitious collection of songs with them on their new album Into The Wild Life. With two impressive albums already in the bank, the band has established themselves as the future of hard rock music. But this new studio effort is by far the band's most diverse collaboration of material and pushes the band to expand its branding.
In many cases a band's third album is the make or break moment of their career; it can solidify your position in the industry or give you the opportunity to break new ground. On Into The Wild Life the band chose to break from past practices and adopt new methods of writing and recording. They moved to Nashville to record the album and employed the services of producer Jay Joyce (The Wallflowers/Eric Church), who challenged them with his own techniques of album making and forced them to push themselves beyond what they had known. The results speak for themselves.
Cuts like I Am The Fire, Amen, Mayhem, Gonna Get Mine, Apocalyptic and I Like It Heavy stay true to the Halestorm brand of hard rock which the band has built its foundations on. But there are several tracks which redefine what the band parameters are, and hence bring something different to the table on this recording. For example, What Sober Couldn't Say is a laid back mid-tempo number which features Hammond organ. Not what I would expect to find on a Halestorm record, it is only subtle, but it works really well. And then there is New Modern Love which oozes Nashville influence, and Bad Girls World which may not be out of place on a P!nk album. Dear Daughter is a nice piano driven ballad, however towards the back end of the song it launches into this strange David Bowie-esque type territory.
The album also sees the continuing rise of singer/guitarist Lzzy Hale. Her performance on this record is simply top notch as she shifts gears from hard rock powerhouse to tender storyteller. The rest of the band can lay claim to elevating their individual performances as well. Drummer Arejay Hale is a good example; on Into The Wild Life he experiments with different patterns, rhythms and time signatures to create a fresh sounding backdrop to many of the tracks, but also leaves room for the standard straight ahead approach. A mention must also go to guitarist Joe Hottinger who really delivers scorching riffs and solos when requires, but also knows when to hold back and let others in the band have their moment. He also brings with him some different styles and techniques of guitar playing on various tracks which add to the overall sonic diversity.
Before this album was released I honestly thought what they would serve up would be more of what had come before and I was really not expecting some of what I heard here. But what I got was a sign of maturity and growth and I think this album brings the band to a crossroads; where they choose to go from here will be interesting. Into The Wild Life is a great record; if you are expecting Halestorm 2.0 it may take you a couple of listens to come around, however once it gets its hooks into you it will not let go.
Categories: Album Reviews