| | |
| --- | --- |
| Posted on May 19, 2015 at 1:05 AM | |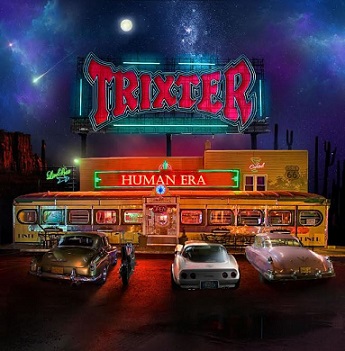 Trixter – Human Era
Written by Juliano Mallon
Working more than the bad guy's horse since the late 80s, Trixter has some pretty cool albums in their discography and after a decade without releasing new stuff, the band made its way back to the rock scene with the excellent "New Audio Machine" (released in 2012), an album praised by critics and fans. Since then, the question "will they be able to reproduce the success?" has been floating around but "Human Era" will end any doubts about that.
The new album surpasses – easily, I must add – the latest one and it becomes clear even before you get to the middle of the tracklist.
Of course, there's the killer "Rockin' To The Edge Of The Night" (with backing vocals inspired by Def Leppard) and the frantic "Crash That Party" to open the album in great style, and the radio friendly "Not Like All The Rest" and "Every Second Counts" assures that, when you get to this point, you'll be online buying the album.
But there are more higlights, such tracks as "Midnight In Your Eyes" (with backing vocals inspired by "that band" from Sheffield), the incendiary "All Night Long", the excellent "Soul Of A Lovin' Man" and the powerful "Human Era" are rockers that will surely put a wide smile on each and every melodic rock enthusiast.
Also, the beautiful ballad "Beats Me Up" and the awesome mid-pacer "Good Times Now" (with a heavier approach) must also be mentioned as highlights of the album.
So, my dear friends, I have no doubts that "Human Era" is Trixter's best album to date. The new effort sounds even tighter than its predecessor, not to mention a more accurate production and tight musicianship. I really liked the contemporary elements presented here, but it's clear the band opted for keeping that late 80's aura going on through the album and it works!
With "Human Era", Trixter shows respect not only to their legacy, but mostly to their fans, by releasing an album carefully crafted, packed with great tunes and great performances. It's absolutely one of the best albums of the year and a "must have" for any serious melodic rock fan.
Categories: Album Reviews