| | |
| --- | --- |
| Posted on May 7, 2015 at 10:50 PM | |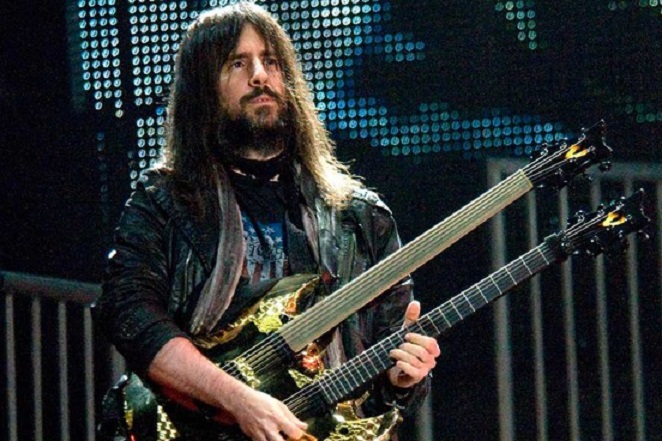 Interview with Ron 'Bumblefoot' Thal
By Dave Smiles
I knew of Ron 'Bumblefoot' Thal as a member of the new Guns N Roses. Until recently I knew very little else about him. With the release of his new solo album Little Brother Is Watching I decided I would do some research into what this guy is all about. I discovered he has released ten solo albums since the early 90s, a bunch of on-line only singles and collaborated with numerous artists of varying genres. In addition to that, he has appeared on tribute CDs and compilations, and engineered and produced countless albums as well. He has certainly found many ways to make a living off music as well as working on the board of directors on the MS Research Foundation, raising money for Multiple Sclerosis.
In addition to playing Rock and Metal, he is also skilled in Blues, Classical and Jazz. He has dedicated to his craft and a life time music fan. Thal now aims to share not only his music, but all that he has learned about it to help younger musicians pursue their own ambitions.
The new album, Little Brother Is Watching, was composed, produced, recorded and mixed by yourself. What difficulties do you face taking all this on board and is it possible to get too close to your work that you can't make the harsh suggestions that a producer might?
I've worn each of these hats individually, as well as stacking them on my head. After decades, I've developed a good feel (or multiple personality disorder?) for swapping hats like flicking a switch. It's very natural, and I enjoy all the hats. Ah, but where the closeness really becomes an issue is in 'mastering' the final mixes, that final process of giving all the mixes consistency in their tone, energy... that's where you've stared into the microscope for so long and are really at the point of making fractional changes that can spiral you into obsession. But I want to give everything I can give - that means doing everything I do, giving every piece of myself into what you hear, and leaving nothing out. Stack o' hats.
Do you have any favourite songs on the album, and are there any parts on there where you think you have exceeded your own capabilities?
The sweeping backing vocal harmonies, especially in Argentina. I like how everything turned out, but overall I feel like there's something that resonates deeper with Don't Know Who To Pray To Anymore.
Lyrically, the themes of the title track focuses on modern society and how everything is on display. What are some of the other songs about and what was the motivation behind them?
Everything was motivated by life experiences, I can give a run-through.
Clots was written about doctor visits after they found a tumour.
Little Brother Is Watching talks about how we're all under each other's watchful eye and the pressures it can cause.
Argentina is a love/tragedy story about jumping into something without thinking it through, realizing that the parties involved both expected something different from the other, and how in the end the emotions turn dark, bitter, into hurting each other – it can be about any kind of relationship.
Don't Know Who To Pray To Anymore is about losing faith, and needing to make peace before you're able to move forward.
Cuterebra has some of my favorite lyrics – it compares the life-cycle of a parasitic fly to 'gossip', how seeds are planted, they grow beneath the skin and eventually surface, grow their wings and land on the next person.
Livin' The Dream is about touring, the transitions of bouncing between two sides of your life.
Higher is about enjoying your life 'now', giving yourself good memories, and how certain songs can be the soundtrack to these moments.
Women Rule The World, well, self-explanatory, (laughs).
Sleepwalking is about being disassociated from your own actions, not facing what you need to.
Eternity is a ballad, about looking forward to waking up each morning with your 'better half'.
There's musical building blocks of David Bowie, George Harrison and Stevie Wonder throughout the album... oh, and Iron Maiden & Manowar! Can maybe hear a bit of that in the final song "Never Again", a song about admitting to yourself it's time to let go of what you need to. The album is a collection of individual stories, each has its own character.
How do you feel your playing has progressed over the years?
I think I've been improving the way I play within a song and when to leave space, and a better 'pocket' with the song's rhythm. Or at least I hope? (laughs).
Are you ever satisfied with your progression as a guitar player, or are you always pushing yourself?
The way I see it, there's an endless road in front of you. No matter how far you've gone, you're always at your beginning, with no limit to how far you can go.
How do you keep your playing fresh and inspired?
That comes from within. You need to keep the poison out of your soul, the things that drain you of your passion. Never forget why you picked up a guitar – we receive so much from music as listeners, and want to give it back. That's all that matters, share with good energy and give back to the world the things you've enjoyed most from what you've received.
How have you managed to make a living off of guitar playing and what advice would you give to aspiring musicians wanting to make a living as a musician?
Be diverse. One thing can't be your 'everything'. Everything you do, do for others as well. If you learned, 'teach' what you learned. It's not just about receiving music and making music – it's about taking the gift others gave to you when they taught you how to make music, and pay it forward. When you see a student achieve and have a positive impact on others, or when your efforts help with children's needs, that's when you can say 'it was all worth it'.
You compose TV jingles, theme songs and background music. How has doing these challenged you as a musician?
The easy part is that you have a definite set of parameters and boundaries to create within. The challenge is that you have a definite set of parameters and boundaries to create within. The easy part is that you have a visual guide that the music must accompany and compliment. The challenge is that you have a visual guide that the music must accompany and compliment. Having lines already drawn on the canvas is not unlike other types of collaborations, instead of with a lyricist or band, it's with something visual. It helps you get better at describing and matching what you see with what you hear.
You have released a number of download only singles. Was this due to the changes in the music industry, or due to your commitments with Guns N Roses taking up too much time?
It was definitely embracing the technology, options we only dreamed of in the past. But yes, with all the touring and time-juggling, there was little possibility of dedicating and focusing on an album, with the needed momentum. I was able to release a song every month, keep a constant simmer of music going throughout the year, and include format choices, instrumental versions, backing tracks, transcriptions, and mix stems with every song. It was the right way to go.
A lot of bands are choosing to not release full length albums due to the cost associated with recording cost, piracy, etc. Do you think full length albums are doomed?
We have lots of choices in how we can put out music, it's a good thing. It doesn't mean albums are doomed, we're now able to fill in the grey area between album & single with more distribution options. Anyone can do anything any which way, good for all.
What first got you interested in music and what was it about the guitar that inspired you to learn to play it?
I heard the KISS Alive! album when I was 5 years old, I knew as soon as I heard it.
Who are some of the musicians who have influenced you as a musician and are there any new guitarists who stand out for you?
It was songs, and bands in the beginning – lots of classic rock and punk, which at the time was the current music... every few months you had new albums from bands like Kiss, the Stones, Yes, Sabbath, Deep Purple, AC/DC, the Who, Pink Floyd, Ramones, Led Zep, Queen... from there I started getting into old-school metal, prog, but guitar-wise Eddie Van Halen had the biggest impact, totally flipped my world upside-down the first time I heard the Mean Street intro... I was into Angus Young, Jimi Hendrix, but when I heard Eddie Van Halen everything changed... newest guitarist & band that I totally dig is Tom Monda of the band "Thank You Scientist". It's a 'must hear'.
https://thankyouscientist.bandcamp.com/track/make-like-a-tree-get-out
What else would you like to achieve as a musician?
I want to do more to help young musicians... biggest goal is to make a festival that brings attention to all the fantastic independent bands I've heard around the world – they deserve recognition.
What five albums would you bring to a deserted island?
I always end up listing 30 albums when asked, (laughs) just five? GAAAAHHH! Okay, this list will change in 5 minutes but let's try this...
1. Manowar - Battle Hymns
2. Yes - Going For The One
3. The Shaggs - Philosophy Of The World
4. Beatles - Magical Mystery Tour
5. Os Mutantes - Os Mutantes
For more information about Bumblefoot visit the official website at www.bumblefoot.com
Bumblefoot - Little Brother Is Watching is available now on iTunes
http://itunes.apple.com/album/little-brother-is-watching/id964582062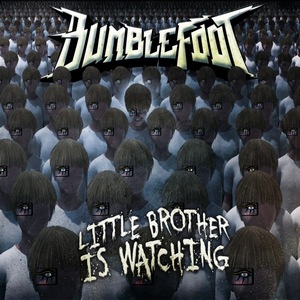 Categories: Interviews