| | |
| --- | --- |
| Posted on May 3, 2015 at 11:10 PM | |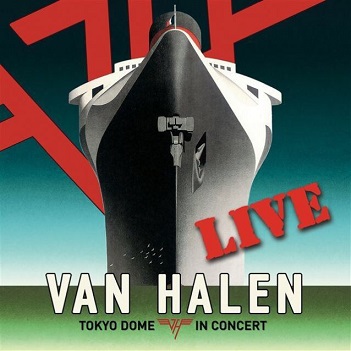 Van Halen – Tokyo Dome Live In Concert
Written by The Rock Man
I cannot explain why, but every time I hear the words 'Van Halen' I am reduced to a giggling idiot. Add to that the words 'new album' and I feel the same way you might feel on a first date. This has been the case since I fell in love with them during the early 1980s and it still happens today. So when it was announced back in February that the band were releasing a new live album called Tokyo Dome Live In Concert I was pretty excited. Sure I think my head would have exploded if it was a new studio album, but at this stage of the band's career, and with the uncertainty surrounding what the band will do next, I'll gladly take whatever they are offering.
It is interesting I was so excited about the prospect of a live album release because I am not usually a big wrap for live recordings; however there is a handful that I have heard that have had a solid impact and stayed with me for years. For example, their album Live: Right Here, Right Now (1993) is one of them. But what make this live album so appetising is the fact that this record features original singer and all out showman "Diamond" David Lee Roth.
The 2 CD set kicks off in a frenzy of drums, bass and guitar and crowd approval at seeing their heroes before guitar God Eddie Van Halen launches into the opening riff of Unchained. The band pulls out another big gun early with Running With Devil, then She's The Woman, the first of three tracks from their last studio record Different Kind Of Truth. Other tracks from that record on disc one include Tattoo and China Town. From here it is down the highway to classic town with songs like I'm The One, Somebody Get Me A Doctor, Everybody Wants Some, Oh, Pretty Woman and an extended version of You Really Got Me. A real feature for me, speaking as a drummer, was the Alex Van Halen drum solo; personally I think there is no one better in the business.
After the excitement of disc one is done and dusted get ready for more classic Van Halen on disc two. I mean it really is one brilliant song after another and it is almost criminal that a band can pack so many phenomenal songs into one set list. Dance The Night Away gets the second disc underway followed by I'll Wait, which for me was a real highlight; this has long been one of many favourites of mine and to see its inclusion in this set was pretty cool. Cradle Will Rock, Hot For Teacher, Women In Love and Mean Street all raise the roof but the band save the best of the best for the back end of the set with Panama, an 8 minute version of Eruption, Ain't Talkin' Bout Love and Jump brings the album to a stunning conclusion.
At this point I would like to briefly address the production values of this recording. In recent times I have read comments by some that suggest the sound values of the band, and more specifically David Lee Roth's vocals, are "rubbish". Personally I think all members of the band, including David Lee Roth, sounded fantastic on the night of its recording and I feel this is one of the better "live" records going around. Is it Live: Right Here, Right Now? Of course not. But at the same time it is not trying to be. Tokyo Dome Live In Concert is not for the Hagar-era fans of the band (which is why we have Live: Right Here, Right Now) but in my opinion, is one for the purists.
Categories: Album Reviews