| | |
| --- | --- |
| Posted on May 3, 2015 at 11:00 PM | |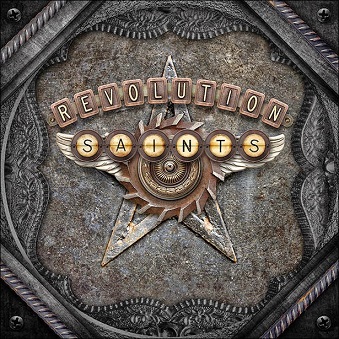 Revolution Saints – Revolution Saints
Written by The Rock Man
This whole "Supergroup" thing is getting ridiculous; but ridiculous in an awesome way. As each new collaboration comes out, the standard of music being produced continues to soar higher and higher. The latest group of high profile musicians to come together is Revolution Saints, and they are redefining the boundaries of musical genius. Ever since it was announced last year that Doug Aldrich (Ex-Whitesnake/Burning Rain) was teaming up with Jack Blades (Night Ranger/Damn Yankees) and Deen Castronovo (Ex-Bad English/Journey) for this new project and that they would release a debut album in early 2015, it has been on my very long 'Most Anticipated Albums' list. And take it from me, the results do not disappoint.
Revolution Saints in short, sounds like the love child of Damn Yankees and Journey; it is just that simple. A criticism that could be levelled at the project is that every song on the record sounds too much like the track before. But for me, this is the album's strength. What the band has done well is identify what their sound is and selected the best songs at their disposal which represents the Revolution Saints brand. It is simple quality control, resulting in a classy self titled album.
From moment one this 12 track/54 minute masterpiece is dripping with catchy melodies, multi-layered harmonies and scorching guitar work from Aldrich. At one point I started wondering if the fire brigade were sent out to extinguish him he is that smoking. Let me be clear, Aldrich is a damn genius as he shreds his way through track after track, and if anyone doubted his validity as a guitar God the proof is evident on this record. The real surprise for me came from Castronovo; not for his drumming, I have known for a long time that he is a monster behind the kit. The surprise here is his incredible vocal work. From time to time he has sung lead on the odd Journey track in recent years but I was never sure he could carry an entire album; I am glad to say he put those concerns to bed.
The first two singles Back On My Trail and Back In Time kick off the record and set the tone for what is to come. Castronovo's Journey band mates, Arnel Pineda and Neil Schon make their presence felt on You're Not Alone and Way To The Sun, respectively. While cuts like Locked Out Of Paradise, Dream On, Strangers To This Life, Better World and How To Mend A Broken Heart elevate the album to a higher level. And as you would expect from an album of this nature, the band fills their quota of big ballads adequately on songs like Don't Walk Away and the album closer In The Name Of The Father.
It is possible that Castronovo, Blades and Aldrich have been saving their best to create this record. At least, that is how I felt listening to it. It's the old cliché, "… has never sounded so good" but in this instance it is actually true. The performances by all involved are through the stratosphere and have laid down a very high benchmark for the band to reach should they return to record another album. What might follow could be mind blowing if this first outing is anything to go by.
Categories: Album Reviews