| | |
| --- | --- |
| Posted on May 3, 2015 at 10:55 PM | |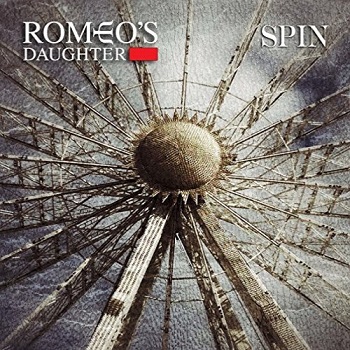 Romeo's Daughter – Spin
Written by Juliano Mallon
One of those bands that deserved a lot more of respect in the 1980s, Romeo's Daughter – as many AOR bands – barely survived the 1990s. They started a hiatus that lasted until 2012, when the excellent "Rapture" was released and introduced a new musical approach, blending elements os contemporary rock with that classic AOR sound the band became famous for. Now, Romeo's Daughter is back with "Spin", an album that – once more – puts a new musical diretion on the table, a bit rawer, with an in-your-face twist that will surely surprise those who thought their new effort would be "just another one of those albums"
For those AOR enthusiasts (like myself), I strongly recommend the radio friendly rockers "Already Gone", "All Because Of You" (one of the highlights of the album), "Perfect Plan" and "Tall Buildings" (another highlight). These songs establish a bridge between the 80s and 90s AOR , but carrying contemporary elements that keep the songs from sounding dated. Awesome tracks that deserve your total attention, believe me.
And since I mentioned the contemporary aspect, such feature gets more evident is such tracks as "Touch" and "Radio", a harmless, well-built slice of pop rock. Both songs deserve to be played over and over, since there is more to those songs than meets the ear.
And bearing the same contemporary elements, mid-pacers "Love Will Come To Those Who Wait", "Enemy" and "Tonight" shine through as highlights of the album. Bring tne volume to 11 and check these songs carefully and with total disregard for your neighbours. Believe me, they will thank you for that later. Finally, another song that is worth mentioning is "Didn't See It Coming", with a surprising arrangement that reveals how versatile Romeo's Daughter is.
With that said, I state that "Spin" presents the update version of Romeo's Daughter in a very consistent album, despite the musical diversity presented in some songs. However, Romeo's Daughter identity is preserved and this new effort shows an interesting variation of what we were used to expect from the band, but with the usual tight musicianship and the flawless vocals of Ms. Leigh Matty.
"Spin" is out now and it deserves a place in your collection.
Categories: Album Reviews