| | |
| --- | --- |
| Posted on May 3, 2015 at 10:50 PM | |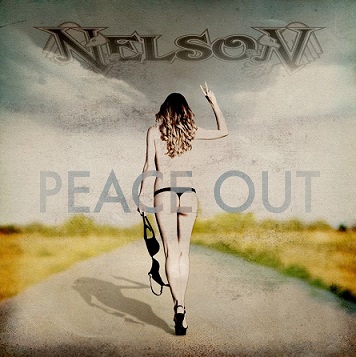 Nelson – Peace Out
Written by The Rock Man
What's in a name? For some music journalists it is everything. For example, the music press would look upon names like U2 or Coldplay with enormous credibility and respect. More often than not, they are praised for their work like it is the greatest thing since the invention of the guitar; a true triumph of humanity. The flipside of this are those whose work may be just as valid or inspiring, but is met with instant distain all because of the name on the album cover. This is a situation that has long rubbed me the wrong way and I have never understood why if good music is good music, why do we then have to discredit it because of the name on the label?
Case in point, Nelson. Since their 1990 debut album After The Rain, the band, led by Matthew and Gunnar Nelson, have sold 6.5 million albums worldwide, had five Top 40 hit singles, four Top 10 hit singles and one Number 1 hit single on the Billboard Hot 100 Chart, and yet are brushed aside and overlooked for the value of their work. And still, I bet my bottom dollar, that if the same music had a Coldplay label attached to it the music world would view it as genius. But maybe the band's new studio album Peace Out will change a few minds.
Peace Out is the band's 10th studio outing, which may come as a surprise to some, considering they are mostly known for their hit single (Can't Live Without Your) Love And Affection and are seen by some as a one hit wonder. Lyrically, for Nelson, the victories, trials and tribulations of love and relationships tend to dominate the song writing process on their records. And on Peace Out this trend continues for the most part, however on occasions they do stray from this format. Take the tongue-in-cheek and humorous Autograph, which tells of celebrity infatuation. And honestly who has not been there at some point in their life?
And then there is Rockstar which encourages living life to the max as they declare "I'm gonna live just like a Rockstar/Maybe you should do the same". Following the same "live life to the fullest" philosophy but on a less ridiculous scale is On The Bright Side and What's Not To Love. Both songs are feel good, driving with the top down type tracks that are up lifting and inspiring. Back In The Day really struck a chord with me as it reflects on a time when rock and roll was fun, energetic and rebellious. Musically the album is pretty edgy from a guitar view point. There are several cuts which have a cracking heavy guitar approach, which in my opinion puts the "Soft Rock" argument to bed. There are also sprinklings of 60s and 70s rock and roll influence and some lighter moments but make no mistake this is an edgy rock effort.
To be honest, I actually had no idea that Nelson were working on any new material, so Peace Out really has taken me by surprise. And in a year full of exciting anticipated album releases, what a pleasant and satisfying surprise it has turned out to be.
Categories: Album Reviews