| | |
| --- | --- |
| Posted on April 27, 2015 at 10:35 PM | |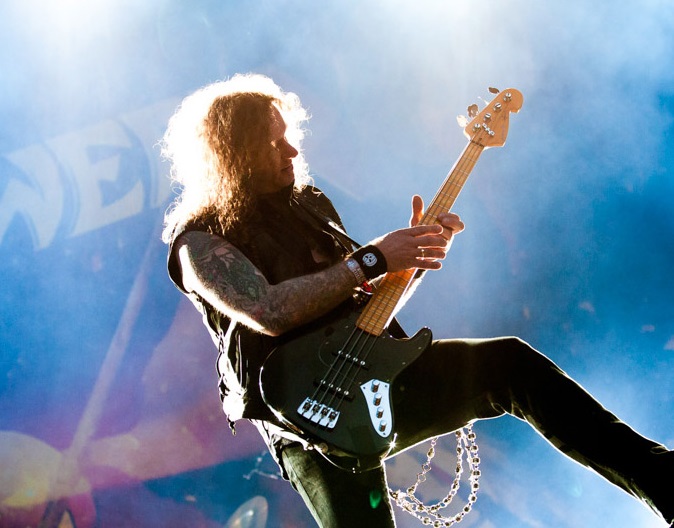 Interview with Markus Grosskopf 
By Dave Smiles
With a career spanning three decades, consisting of fifteen studio albums, three live releases, and countless singles, Helloween have ventured into various styles of metal such as thrash, speed, traditional, but the genre that is almost synonymous with the band is Power Metal. While they may not have technically invented the genre, they certainly perfected it. With the release of genre defining duel classics The Keeper Of The Seven Keys Parts 1 and 2 (1987/88), the band set the precedent for what Power Metal bands are graded against to this day.
Not content to stay pigeonholed, the band kept moving forward, exploring as many of the dynamics avaiable to them within the Helloween sound as they could. While the band may have had hits and misses -- 1993's Chameleon may have even less fans than Metallica and Lou Reed's collaboration Lulu -- the band have never been afraid of taking chances, writing music for them and striving ahead in the face of setbacks and adversity.
Throughout their three decade career the band have experienced as many line-up changes as they have different styles of songs released to their name. Early thrash metal tracks like Murderer and Ride The Sky are as far removed as can be from the acoustic ballad In The Middle Of A Heartbeat and the haunting If I Could Fly, but while these songs are diverse they are unmistakably Helloween.
With the upcoming release of the band's new album My God Given Right, bassist and founding member Markus Grosskopf hit the press circuit to promote the album. It was an honour to talk to one of the musicians that I've been listening to since I was ten. One thing I have always liked about Helloween is that in addition to writing great songs they have always kept it fun, and after talking to Markus it is evident that it comes naturally.
First of all, mate, congratulations on the upcoming fifteenth Helloween studio album - My God Given Right.
Thank you, it's like the fifteenth, right? I almost forgot. (Laughs)
(Laughs) Leave it up to the obsessive fan to remember.
When you're doing the records you don't think about how many it is but after it's done you think My God, it's a lot of music in your life.
It is a lot of music over the years. When the album was all finished, was it everything that you had hoped it would be?
Yeah it's nice we got that couple of tracks that we wrote, individual, writing songs. That's how we start, you know and then you never know what's coming up from the other people, cause we're like four song writers and it's always interesting to hear what comes out of it. I mean, we know, we write songs for Helloween and it gets easier with the years to trim tracks so it sounds like a Helloween track, but we were kind of surprised when we heard that track My God Given Right, thinking it's a killer album name. It came out very very early that it's going to be the title track.
Was there a story behind the title?
It's my God given right that you can actually do and say whatever you like as long as you're not hurting anybody else, or your neighbour or whatever, what so ever, we can go out doing music, that's out God given right to do that if you like to live with the consequences cause if you start it's not going to be easy but still, if you like, you can go out there and try to make it. It's what we thought was cool. It's a cool theme, but it doesn't go for only music. It's for whatever you'd like to do, you have to start, you have to carry on, it's your right to go as far as you'd like.
It is a very cool concept. Are there any songs on the album that you are particularly proud of?
I'm proud of the whole fucking shebang, you know? It's like when you start an album, it's like wow when you sit with a piece of paper just trying to get a song together, you think 'I've got a lot to do, there's nothing yet.' In a couple of months people expect you to do a record. And then when you hold it in your hand, of course you're proud of the whole concept with the artwork, with the whole shebang, you know? It's not only particular songs, you know. That comes a couple of months later when you're listening to it and one or the other songs will stick out. But now that it's been finished it's like the whole package. After a couple of weeks listening to it, one or the other songs sticking out a little more, actually. That's the way it goes with me.
Is that how you would go about picking what songs you would play live?
Maybe, but also we think what songs could be easy to play for people to follow so we can involve the audience sometimes, 'this is a great part to go for them' whatever. We play them, and if you listen to them you think this is going to be cool, it's never going to get out of my head so it might be nice for the audience as well and good in the live set.
When you guys first started making music together back in the early eighties, did you ever think you would be doing it thirty years later?
We were actually trying to do some music that would be lasting for a very long time. We weren't thinking of doing it for two or three years and then doing something different. We were trying to create Helloween as a band that would last longer than two or three or five years. We were kind of on the right track. That's how we wrote the songs, we needed some extreme sound and songs. We could have easily done art rock n roll type music that had been done by everyone just to have a couple of years fun but we wanted to take it to the extreme to make it a little more interesting, to stick out a little, just with the idea of surviving longer than a couple of years.
The thirtieth anniversary of your first EP is coming up. Will you be doing anything to celebrate its release with a re-issue or something?
Er, there is one thing in particular that I can't tell you, it's kind of a surprise, what we are working on. I'm not really allowed to tell you.
That is fine. I will keep an eye out for it. -- What inspires you to keep making music?
It's like… you challenge yourself kind of, cause after so many songs, so many records, you think what can I do. I've got parts in my songs that I've heard before and you've got to through them away and think about something new, it's always a challenge not too much repeating yourself because you've done a lot of stuff over the years, but still have it sound like Helloween and it's still got to be sounding fresh and new. I'm not talking about new music, I'm talking about not repeating yourself too much so you want to doing something different but still in the range of Helloween. That's kind of a challenge you're always working on. With four songwriters it's working very good. Everybody has a different style of writing so everything is not on your own shoulders. It's easy to work with people after all those years we have a stable line up now for more than ten years and it gets more and more a unit.
A lot of metal bands are getting into Symphonic metal. Blind Guardian have just released their new album and it has symphonies on it. Helloween hasn't thought about doing something like that?
Well, if the others are all doing it why should we? (Laughs) I mean we have a little keyboards here and there, which is like symphonic metal. We have like our own style, you know. We have also very different songs, which are also very different sounding from each other here and there because we are four song writers which makes it interesting enough without saying 'now we're going to do a symphonic album.' We just write songs. If you do a concept theme, we do symphonic metal or we do something like 'Keepers' with very long conceptual tracks then you work very different, but this time we thought it's just cool to write some killer songs. Write some rock songs, write some metal tracks, without a big concept behind it. It sounds fresh and free for us. If you put yourself in that cage and saying you're doing a concept then you have to follow that concept, which is very hard to follow a concept and working on stuff like this. It's not easy, it's a very different way of working. We just feel like doing some killer tracks and putting them down to the CD. It's just the way we feel very comfortable with at the moment.
How do you feel when people class Helloween as the godfathers of Power Metal?
It's a nice complement, and people started off sounding kind of that style, but what I realised after the years they began finding out what they can do for themselves, finding their own style. That's what I found very interesting. They started off sounding a little like Helloween but after all those years you cannot tell that it started off with Helloween cause some of them sound their very own style, which is important. We had out influence when we started off listening to Iron Maiden, Judas Priest and all those bands but we found our own style of making music. That's what everybody should do. But I'm still proud, you know, talking to the people when they are telling me I was giving them the first kick for them to do their music. It's nice, you know. Inspiring some people is actually what you want.
Yeah, yeah definitely. Are there any young bands that have come along in the past few years that you really like?
In the past few years there was Mustasch (heavy metal band from Sweden), I don't know if they are young, but they're very ugly. (Laughs) But their music is kind of ugly, but that's not really new is it? Mustasch have been there for a couple of years already.
Helloween have been around for about thirty years now. How has people's attitudes changed to metal in general in regards to popularity and fan reaction?
Hmmm, that's one thing, everything actually changed, the whole media side of it. The internet and the whole promotional kind of thing, the CD and all that changed a lot. There's nothing like it was before which is okay for me. We work with it, you have to work with it cause we're working in that business. If it's good or bad it doesn't matter, you can deal with it. But there's one thing that never really changed – you go out, you play and at that very second when it happens on stage and you look the people in the eye, and you shake hands and you talk. That kind of emotion, that feeling has never changed, actually, and the fans are still wearing their jackets with the stickers, they're all there hanging out and you can have a nice chat with them. Actually it never changed. Nowadays they come with their children, you know. We inspired them like thirty years ago, and now father and mother are coming with their children. I think it's a nice cool thing, we're still standing there talking, having a nice chat, having a nice cold beer. It's nice that they bring their children. I have that idea when we have the third generation together and the grandfather comes, the father is there, and if they bring the son, I will get the son into the Helloween show for free. (Laughs)
That must be pretty awesome to see.
That will be in a couple of years, right? It can happen. (Laughs)
It can happen. Absolutely. – What is the best thing about being up on stage and performing your music to a live audience?
The best thing is like the emotion that you create and there's no turning back it's just happening in that very second. I kind of like that spontaneous reaction from the people inspiring me to do something on stage or whatever, that's very very nice. I like that. It's like you can almost go there and play the big man, you know? It's just like you can be that macho guy on stage beating your bass and all that. It's just like a little show. Without me being totally different, I'm not really acting, but on stage you are a little bit of an actor. We're not too much pretending to be somebody else. But this very moment is very very special, those two hours, it's almost like you're switching a button and then you're like … it's just like that moment, you know?
Yeah. When did you first discover music and what was it about bass guitar that made you want to learn how to play it?
When I was little and listening to music in the very early years I always could tell the bass from the guitar and the drums and all that. Some people are able to listen to music and they don't hear the bass, they more feel it. And I could say that's very very nice what the bass is doing there and I was always interested in it. It was like the time when this punk band I met on holiday. They needed a bass player and I said 'I'll do the job.' They said 'did you play the bass before' and I said 'no, but I can learn.' I learned it very quick. (Laughs) Suddenly I found myself in a punk band learning a couple of Ramones and Sex Pistols and XTC songs, kind of like that and it was just working, you know. It was just always touching me what the bass was doing in some songs. When I started off listening to AC/DC there was Squealer and Love Hungry Man and they were like the first bass lines that I learned, and some Kiss songs like Love Gun, learning this and that it was very very much fun and inspired me a lot.
Is there anything else you would like to achieve as a musician?
Well, I don't know, we've done a lot so far… There's some festivals I would like to headline in the next ten years (Laughs)
Speaking of which, is there any chance we will see you guys down in Australia sometime soon?
We were talking about it. I would like to play a festival in Australia. I guess you'd have a lot of festivals there, right?
Yes. Especially over summer we have a lot of bands come from overseas. We have a festival called Soundwave.
Is that a metal festival?
Metal, hard rock, a bit of everything.
Right, yeah. We have plans to come to Australia after we hit Japan cause it's the nearest route we can have to Australia is being in Japan and then going over to your place and it's planned to do that maybe for a couple of shows in August of something like that, or June July August. August or September, I guess. We were talking about this and thinking it would be a good idea, we haven't been there for a long time, and coming over for a couple of shows after Japan and then going back to Germany.
That would be pretty awesome. – This new album is a return to Nuclear Blast. What lead to the return to the label?
There was no harm, there was no bad words with the last record company we just thought that contract was running out and Nuclear Blast was always around us asking here and there, making offers and all that. We thought it was a cool idea to go back home where we belong. (Laughs) Although there was no bad words with the record company we were with before. We just agreed, that's it, we're going back to Nuclear Blast. Which is cool.
Cool. Well, I will wind it up. Personally, thank you for so many cool albums over the years, mate. I have been listening to you for about twenty five years now. You have definitely got some cool songs.
Thank you. We have a lot of different stuff which I like looking back in the history and the back catalogue. It's nice to have a couple of albums that are very very different from what we did before, even though they weren't that successful. But having all these records it's nice to have very very different stuff in your back catalogue. I think it's cool.
All the best with this new album and the upcoming tour.
Thank you. We will start with the festivals soon.
For more information about Helloween visit the official website at www.helloween.org/
Helloween – My God Give Right is available on Nuclear Blast Records.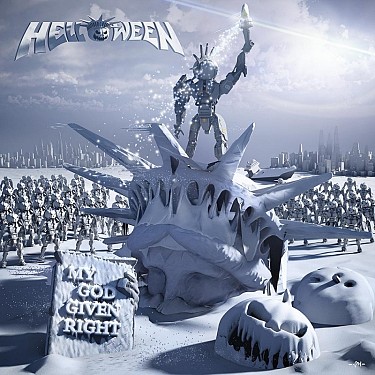 Categories: Interviews