| | |
| --- | --- |
| Posted on March 30, 2015 at 9:25 PM | |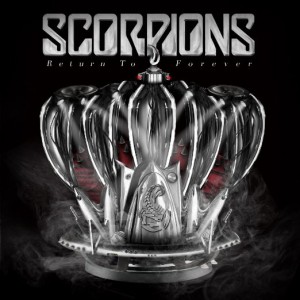 Scorpions – Return To Forever (Deluxe Edition)
Written by The Rock Man
Around the time I started listening to hard rock and metal bands, the latest release from the Scorpions was Love At First Sting. From the moment I heard this amazing record I was hooked; and let me be crystal clear on this, I consider Love At First Sting one of the great hard rock albums of all time. Over the course of their career they have become the most successful German hard rock band in history, and the common denominator throughout their good fortune is that the Scorpions have always stayed true to themselves and recorded what they thought was the right album for them at the time. Once again, 50 years after they were formed, the Scorpions are staying true to that ethos with their 18th studio album Return To Forever.
On the deluxe edition of the album there are 17 tracks running in at 66 minutes, so there is a lot of music here and a lot of room for duds or filler tracks; but this is the Scorpions and that just does not happen. What does happen, as you would expect from seasoned veterans, is quality musicianship, quality song writing and quality production values.
Having said that, it is a surprise there is even a new album at all considering the band was set to call it a day at the end of the last world tour. Now I am not sure if I am reading something into something that just is not there, but the album title is Return To Forever which may suggest that the band plans on being here a while. Yet by the same token, the opening track is titled Going Out With A Bang which could imply their intentions as well. Vocalist Klause Meine states in a matter of fact tone, "If you think we're not fighting/Like we used to do/So are you ready for this/You might learn a bit a trick or two/'Cause all those years of rockin' hard/Have taught us how to rise and how to fall/We're still standing tall/We're going out with a bang".
A feature of any Scorpions album is the power ballad. These are heartfelt, emotional efforts big on passionate melodic choruses and on Return To Forever tracks like House Of Cards, Eye Of The Storm, Gypsy Life and Who We Are fill the albums quota adequately. But these guys are hard rockers to the core and that is what they do best on Rock My Car, Rock N' Roll Band, Hard Rockin' The Place and Dancing In The Moonlight. As always the twin guitar attack from Rudolf Schenker and Matthias Jabs is explosive and should serve as a reminder to the up and coming generation of how the big boys do it. Lyrically the band do not break any new ground here, instead opting to rely on a tried and true formula of love/hope/social commentary and straight out rock and roll decadence.
2010's Sting In The Tail is one of the few times I have not been completely satisfied by a Scorpions release and at that point I thought it might be the band's last. Fortunately in 2015 the band has recorded a collection of songs worthy of the great Scorpions name and I cannot see it being too long before this album is considered a classic. And to think these guys were going to retire!
Categories: Album Reviews