| | |
| --- | --- |
| Posted on March 30, 2015 at 9:20 PM | |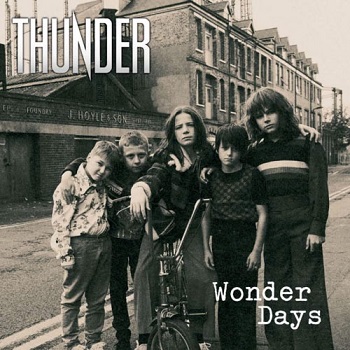 Thunder - Wonder Days
Written by Antony Scholefield
Certain songs are great to play while driving. Others aren't. I'm yet to work out a scientific test to define good driving music, but a bunch of tracks on Wonder Days set a decent benchmark.
Wonder Days is the tenth studio album from British rockers Thunder. Formed in 1989 from the aftermath of Terraplane, the band has experienced the expected string of lineup changes and reunions. Yet they don't sound like they're a quarter-century old. Wonder Days could easily be the debut or sophomore album from a newly formed retro-rock band.
First of all, however, let's break down the magic formula for driving songs. They need to be fast. They need to feature a repeated groove. 'The Thing I Want', the second track on Wonder Days, is a great example. It balances crunchy guitar-work with surprisingly poppy background vocals, a nice touch that would fit well with the sensation of wind blowing through your hair.
'Black Water' is a fantastic number with old-school sneering vocals from singer Danny Bowes, who sounds a bit like Joe Elliot from Def Leppard. 'Chasing Shadows' is a tad slower and moodier, but still fits the overall groove. Often the guitars sound like AC/DC circa Ballbreaker or Stiff Upper Lip - low-tuned without being grungy, powerful without overshadowing everything else.
Of course, not every track is aimed at the petrol-heads. The title track is a dark, heavy number with a stop-start arrangement similar to Led Zeppelin's Black Dog, and a lovely piano section that drops in about halfway through. 'The Rain' is like the other side of Zeppelin - the fantasy-inspired acoustic folk side. It's another one to keep your ear on.
'Resurrection Day' is a surprisingly modern and upbeat track, but the hidden highlight from Wonder Days is the second-to-last track, 'Serpentine.' It's like a super-funky acoustic-led version of ZZ Top's 'La Grange'. Even without the murky electric guitars that drive most other tracks, it's got a barrelling, forward-moving energy behind it.
Wonder Days is probably one of the better - not best, but better - albums you'll hear in 2015. It's fresh, heavy, and in case I haven't mentioned it enough, great for pumping up in the car. This is certainly an album worth playing at full throttle.
Categories: Album Reviews