| | |
| --- | --- |
| Posted on March 30, 2015 at 9:10 PM | |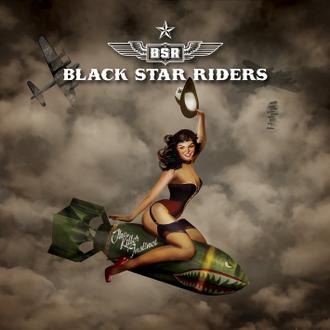 Black Star Riders – The Killer Instinct
Written by Dave Smiles
The Killer Instinct takes an unquestionable step up from Black Star Riders' debut album All Hell Breaks Loose (2013). They can no longer be regarded as the band that morphed out of the final line up of Thin Lizzy, nor can they be considered a supergroup. This is Black Star Riders, a band with their own identity, who manage to take the influences of the impressive list of bands the collective members have each been in and create something unique.
The Killer Instinct has everything a rock n roll album needs, great songs, energetic and inspired performance, melodic and rhythmic guitar work from Scott Gorham and Damon Johnson, interesting lyrics written by Rick Warwick, that stick with you after you've heard them. Songs like Bullet Blues, Charles, I Gotta Go, and Turn In Your Arms feel like they have a meaning and an importance, but leave enough room for the listener to associate their own ideas and ideals to them. Furthermore, great lyrics are one thing, but unless they're delivered in a way that does them justice they would sadly go unheard. Warwick has certainly developed as a singer over the years, developing on the great rock voice displayed with his work in The Almighty, he now has a healthy dose of soul that can only come from life experience.
Finest Hour is bound to resinate with any of us who were fans of rock music during our carefree teenage years. In contrast, Solidertown is the most foreboding and gripping tale on the album. A story of a man's inevitable return to his childhood home after being enlisted by soldiers as a boy.
The most laid back track on the album is Blindsided, a slow and bluesy rock n roll tale told as perfectly as you could expect from someone who has lived it. Self-reflection as a theme is visited again on Sex, Guns & Gasoline. The unknown, faceless loner traversing the seedy underworlds that others would rather not see is the hero of this timeless tale of the rock n roll outcast, which countless people the world over can relate to, or have felt like at least once.
The diversity within these ten tracks strengthens the quality of the album, and while a lot of the songs have weight and purpose, this is rock n roll and some songs are just for fun. The leadoff single and title track has a fantastic classic rock feel, as does Through The Motions. The lyrics to the chorus are well written and Warwick brings an extra dynamic to them with his soulful delivery. The album closes with You Little Liar, a straight up rocker with less words in the lyrics than the other songs.
As unique as Thin Lizzy was to their peers, Black Star Riders are to their contemporaries. Ten songs written as only guys with this kind of experience can do. When you get musicians of this calibre together you're bound to get some quality songs. Thunder and Lighting has struck twice.
Categories: Album Reviews