| | |
| --- | --- |
| Posted on March 30, 2015 at 9:00 PM | |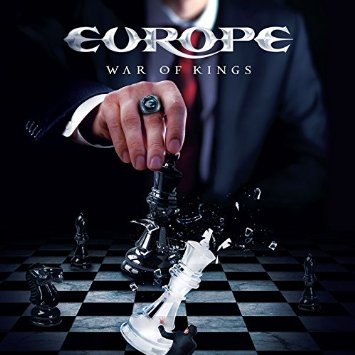 Europe – War Of Kings
Written by The Rock Man
Forget what you think you know about Europe. Yes, they made their name off the success of The Final Countdown era; and while that was the sound of the band at that time, it actually is not a true reflection of the band, for there is far more to these Swedish superstars than that one period of their career. For the better part of the 1990s the band went their separate ways but released new material in 2004 with a harder, more edgy brand of rock and roll. Since then the band have stayed true to this course releasing several more high quality records, and in 2015 the band returns with War Of Kings.
The standard version of the album features 11 tracks, while a deluxe edition contains a bonus track. For me, this record harkens back to the early days of the band during the Europe/Wings Of Tomorrow era of 1983/84, and yet at the same time they manage to maintain a modern twist that reflects the past decade for the band. Any number of songs here could have featured on various past albums.
Take for example the title track which kicks off the album; here is the perfect blend of paying tribute to the past while embracing the here and now. The verses are very modern but it is the chorus where this song really comes into its own with a strong 1984 flavour. Hole In My Pocket is the next track to explode out of the speakers with guitarist John Norum putting in a cracking performance and drummer Ian Haugland killing it behind the drums, the song is pacey and full of groove. Second Day is an edgy mid-tempo rocker with another big traditional Europe style chorus.
The band has made no secret about being influenced by the likes of Led Zeppelin, Deep Purple and Black Sabbath, and on numerous tracks that influence shines through. Praise You, Nothin' To Ya and Days Of Rock N' Roll all have shades of hero influence running through them. Children Of The Mind is a funky, psychedelic, grungy style cut while Rainbow Bridge draws on Middle Eastern flavours. The only ballad on the record is Angels (With Broken Wings) and while this song did not set my world on fire, my hat does go off to singer Joey Tempest who puts in a stunning vocal performance. The album concludes with the groove fest rocker Light Me Up on the standard CD and the bluesy instrumental Vasastan on the deluxe edition.
If all you know about this band is that late 1980s Final Countdown/Out Of This World period of the band's history, then I strongly suggest to give this album a miss. There is no reliving those glory days to be found here. This is for those that were there from the beginning, who remember Europe before they went commercial or those who picked up the band post 1990s.
Categories: Album Reviews