| | |
| --- | --- |
| Posted on March 5, 2015 at 10:00 PM | |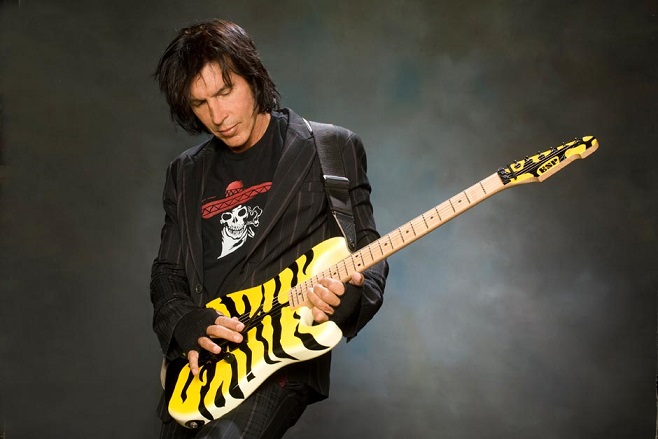 The music world is littered with bands that have their own unique sound. The second you hear them you go "Oh that is ….". Then there are those bands that not only have "their" sound, but the lead guitarist also has a defining sonic presence separating them from their peers. This was big in the 1980s with guys like Eddie Van Halen and Yngwie J. Malmsteen leading the pack. Another guy in the bunch was Dokken axeman George Lynch. Over the coming decades Lynch would establish himself as a force to be reckoned with, as a six string superstar influencing many generations of young musical aspirants. Since leaving Dokken, Lynch has been at the forefront of many other projects including Lynch Mob, KMX and solo material. But arguably his crowning glory may have come in the form of the new album from supergroup Sweet & Lynch, titled Only To Rise. I gave Lynch a call to discuss this outstanding collaboration, his contribution to the '80s scene and AC/DC rehearsals which were taking place next door.
Rock Man: Firstly, congratulations on the release of the Sweet & Lynch album Only To Rise. This is simply an outstanding collection of material; I would imagine Michael Sweet and yourself are very proud of what you have created here.
George Lynch: Well we are but, and I am not saying this to qualify it, every time you do a record or compose an artist you are always proud of it, you are always excited you really are. I mean, when you create something it is your baby, you know, and you watch it grow from nothing, from conception to this end product it really is an exciting time when it first comes out.
RM: Listening to this record the first thing that came to my mind was 'why haven't these two paired up before?' it seems like a perfect match. Can you tell me about how this project came together?
GL: Yeah, it was the brainchild of Frontiers Records and they approached Michael initially, who approached me. And Michael and I had been doing some touring together with our respective bands, Lynch Mob and Stryper, we shared an agent, so doing some shows together and travelling together we got a chance to hang out quite a bit and that led to us talking about doing something musically together at some point down the road, but we were not sure what that vehicle would be. Initially Michael and I thought that we would work together with Jeff Pilson (Dokken/Foreigner) and Mick Brown (Dokken) doing a record together, but that still may happen at some point. But when Frontiers Records called him and myself about putting this current project together it was Michael who suggested using me. I think initially they were talking about using the guitar player from Dokken, John Leven, but then I think Michael said "Well, why don't we just get the real guy?" [laughs] or something to that effect. So I am glad he did and Serafino from Frontiers Records called back, you know, it is kind of an unorthodox way of putting a band together but I was happy to do it. Because I wanted to play with Michael and also I was interested in writing a record that maybe had elements harking back to the '80s in some ways and components that I think are '80s derivative and I had not worked on a record like that in a long time, so I just wondered if I could still do that [laughs].
RM: Over the course of your career you have had some exceptional singers at your disposal. How does Michael Sweet rate against other vocalists you have worked with?
GL: You are right, I have been very fortunate I have worked with some great singers, I really have. Probably more than people would think because looking at it, at my records everyone's like "Well, there was Dokken, there was Lynch Mob" and I worked with Glenn Hughes on my solo record and this and that but really I have just worked with scores of guys, and a lot of stuff I have done with them has just flown under the radar. But Michael is a pro and a half, he is so astute and he really takes care of himself and he manages himself very well, a very serious guy, there is none of that kind of silly lead singer disease, Hollywood rock star shit [laughs], you know, he handles his business. When he says he is going to do something he does it that means a lot to me, I really do have tremendous respect for his work ethic. He took on a lot and he really delivered I think, the hooks are there, obviously his vocal chops are amazing and his production skills are phenomenal and his song writing is great. He really walks that fine line between that legacy stuff and making it a little more modern, and that really is a challenge to do.
RM: The supporting cast on this record is pretty impressive as well. On drums is Brian Tichy and on bass is James Lomenzo, both of whom you have worked with before. Can you tell me a little bit about those gentlemen and your thoughts on their performance on the record?
GL: Well, Brian never misses, Brian is a monster, he really is. I have worked with him numerous times and Brian, James and myself all live very close to each other, we live in the Santa Clarita Valley which is North of Los Angeles, we are friends. My wife and them and their wives, we all go out, you know, go hang out so we are very close and they are phenomenal they are pros, I mean, you are going to get class A, top grade musicianship with these guys. So I have got to say, and I do not mean to interrupt this, but I am listening to AC/DC rehearsing next door to me [laughs].
RM: Oh my God, really?
GL: Yeah, it was just Angus (Young), just a second ago. They sound phenomenal, they sound great. How old are these guys? 70 or something? They sound fantastic. I want to play in that band! That is my next project to play in AC/DC, I would be a roadie in that band if they would let me [laughs].
RM: Getting back to this record, Only To Rise, did you find this an easy album to make or did it present its fair share of challenges?
GL: It was the easiest record I have ever done. It was very easy, I mean, I work remotely on my own; I wrote the music at my studio with my engineer Chris Collier, who is a great drummer, great all around musician, he is very fast at drum programming on the fly. So I would come up with riffs, come up with a beat, you know, we just went for it, we just wrote all the instrumental songs in about four days. Sent those of to Michael and the guys and they fleshed everything out in a studio back east and sent everything back to me and I mixed in the guitars. It was very easy, painless [laughs], I wish they could all be like that.
RM: The first single from the album was The Wish. What sort of reception did you get from music fans and the press about that track, given that was the first taste from this project?
GL: Umm... it was not my pick, I would not have gone with that song. But, you know, I do not know everything [laughs], I am just part of the mix. But I am a huge fan of the second track which is Dying Rose, and I have got to be honest with you it has been a while since I have worked on the record and I do not have the record here in front of me so I do not quite know what the songs are called [laughs]. I mean, I did all the music and know what the music is but then Michael did his thing with the vocals, so apart from Dying Rose and September I am not sure which song is which when you just rattle off titles.
RM: So can you see future Sweet & Lynch releases down the road?
GL: Well I could, absolutely. I definitely see Michael and I and Jeff Pilson and Mick Brown doing a record together as well. But we might not get to do that for quite some time because of Jeff's schedule. But in some capacity I would think so it makes a lot of sense, you know, we will see. If the powers that be decide there needs to be another Sweet & Lynch record I would be here ready and willing.
RM: The 1980s was a golden age for hard rock/metal. Do you feel privileged to have been a major contributor to the scene at that time?
GL: Yeah and sometimes I even wonder how that happened [laughs]. Of course, I am very proud of the music that we created, I have gotten over being embarrassed about the look of the era we created, you know, some of the silly attributes and other things that were going on at that time; big hair, stretchy pants and make up. But it was what it was and I am not ashamed of it, if it was not for that I would not be talking to you today; I would not be making the music I am making today.
RM: For me one of the great bands of that era is Dokken. Are you able to look back at that time with the band and reflect positively, or have the decades of conflict with Don Dokken tarnished any fond memories you may have?
GL: Right, it is a mixed bag. I mean, the overriding thing is that we were fortunately successful and that is the most important thing that we wrote, played and had this experience of being in a successful rock band for like a full decade. We are very lucky and very fortunate to have experienced that but like you said there was a lot of dysfunction. The damage kind of tampered down some of my enthusiasm for my recollection of fond memories [laughs]. But it is a mixed bag.
RM: I think that 1985's Under Lock And Key is a highlight of the Dokken catalogue. 2015 is the 30th anniversary of its release, would you like to see some sort of celebrative re-issue and what do you recall about making that album?
GL: Yeah, that was definitely the pinnacle of the band, we were at our peak at that point, I guess. Each successive record was, we had stepped up to another level because we were so driven to prove ourselves that we had this vision and we thought we could obtain it if we kept building on the previous record. So Breaking The Chains, we were very frustrated with the sales of Breaking The Chains and the way it came out, Tooth And Nail we had to prove ourselves and I think we did in a very basic way and then we stepped it up again with Under Lock And Key. And I think it was our best work, I agree with you. We worked really hard on that record [laughs], I guess we had a chemistry that I do not sometimes appreciate, there were a lot of great songs, wall to wall records, there was not a bad song in the bunch and that is hard to do.
RM: And finally, you hear more and more artists coming out saying that it is getting to the point where it is not worth making full length albums anymore, given the decline in record sales, the popularity of iTunes and downloading. What are your thoughts? Are full length albums still valid in this day and age?
GL: Well obviously it is because we do them, but I have to say I really love making records, it is not a problem for me to do three records in a year. I am happy to do more records because I do not have the luxury of being in a band that does one every year and a half and that sustains me. But this is the thing on two levels, financially and creatively, but it is very sad that it is the way it is I do not know, obviously it cannot be changed, for whatever reason, I just think it is very bizarre that in a worldwide economic system where you have to pay for everything, nothing is free, somehow music gets to be free. I just do not get why there is even an argument or discussion about this, that there is supposedly two points of view, why would there be another point of view [laughs]? You cannot steal anything else in this world, very strange. But we sell a fraction of the records we used to sell and that is frustrating. Say you sell 30-50,000 records, nowadays that is considered respectable now. It is a conservable amount of people, there is an audience out there, it is not just that that many people are hearing the music because obviously people are getting it of torrent sites and whatever, pirating it, streaming it. Streaming it is almost stealing it, you really do not get paid for streams. With KXM I think we had over two and a half million streams and we got like $2,000 [laughs]. The record company gets half that and then three guys divide that up after commissions and you make a couple of hundred dollars if you are lucky for two and a half million streams, it is insane. So I would really like to see artists not allow their music to be streamed, I think it is inevitable that the industry is going this way they want it to go this way because they are getting slave labour but not enough to pay for content. But it is very sad, it hurts the artist, I think the artists should stick together there needs to be a consolidation of writers, of artists, composers and so forth like a union that stands against these guys, that sticks up for a living wage.
RM: Once again, congratulations on the album Sweet & Lynch – Only To Rise. On behalf of everyone here at Full Throttle Rock I would like to wish you and Michael all the best for the album and all the best for many years of success.
GL: Thank you and thank you for the interview, I am sure we will talk again.
For more information about George Lynch visit the official website at www.georgelynch.com
For more information on Sweet & Lynch visit them on Facebook at www.facebook.com/SweetLynch
Sweet & Lynch – Only To Rise is available on Frontiers Records.
Categories: Interviews