| | |
| --- | --- |
| Posted on February 23, 2015 at 8:10 PM | |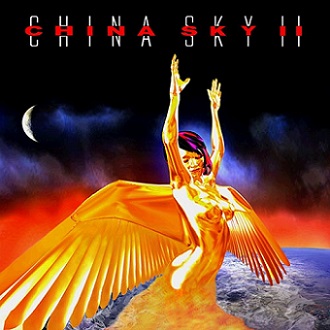 China Sky – China Sky II
Written by Juliano Mallon
In the second half of the 80's, more precisely in 1988, Chine Sky debut in the universe of those good sounds with their self-titled album, carrying a polished, pompous, catching AOR. However, the band was short lived and soon disappeared. But now, 25 years later, the band is back in business with "China Sky II", an effort that brings together outstanding vocalist Ron Perry and exquisite keyboardist Richard Smith, both members from the original lineup. With a more contemporary approach to their music and a raw production, China Sky is reclaiming its space among the best in the AOR pantheon. And they seem to deserve it.
Powerful rockers "One Life", "You're Not Alone" and "I Believe In You", put to rest any doubts regarding Ron Perry's abilities as a vocalist. Besides, the songs carry catcing melodies that show where the band is at right now, musciaclly speaking. They're not prisoners of the past, but they didn't forget their AOR origins.
With a more "in your face" approach, rockers "Enemy", "I'm A Survivor" and "You'll Get Your" deliver straight forward rock with no frills. Also, "The Darkness", "Give It Up" and "Dreams I'll Never See" are worth mentioning and all of them deserve multiple spins.
The power ballad "I Wish I Could Fly" offers an interesting opposition to the rock frenzy of the album, keeping the bar up high and showing – once again – Mr. Perry's versatility.
Summing up, my dear friends, China Sky's come back doesn't bring the nostalgic aura that's so common with returning bands that had their heyday back in the 80's. The band opted for a more objective and simpler musical approach, but keeping the melodic aspect intact. With that being said, I can honestly say that "China Sky II" stands as one of the most welcomed comebacks of 2015, and also one of the best surprises of the year so far. With a great collection of new songs and, seasoned musicians and a superb vocalist, "China Sky II" deserves your total attention.
Categories: Album Reviews