| | |
| --- | --- |
| Posted on February 23, 2015 at 7:55 PM | |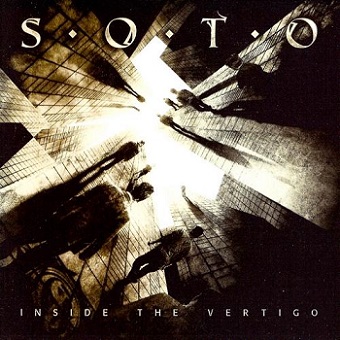 Soto – Inside The Vertigo
 Written by The Rock Man
To so many people, over so many decades, the name Jeff Scott Soto means so many different things. For some it represents the early Yngwie J. Malmsteen days; for others it means a passionate hard rocking solo career; and for others it is the soulful melodic driving force behind bands such as Talisman and W.E.T. However in 2015 the name JSS is about to mean something different to a whole new generation of fan as he launches his new band titled Soto and their debut album Inside The Vertigo.
Inside The Vertigo can only be described as one word… brutal. Now, to be clear I use that word in a most complementary manner and with a smile on my face. I have also often used the term 'audio assault' but never has it been more appropriate than to describe what awaits on this record. For those looking for a smooth melodic AOR collection of songs about love and heartache you seriously need to purchase something else, because JSS is as mad as hell and unleashes his fury on this monster metal album. That's right boys and girls, Inside The Vertigo is a full on, unrelenting metal steam train.
The opening track Final Say hits you like a sledgehammer; the guitar and drum work is frantic and uncompromising and for a slipt second I thought I was listening to a Megadeth record. Vocally though, the JSS that we have all grown up with is still there, just more aggressive in attitude. That aggressive nature certainly is on display throughout The Fall which gives the impression that it is aimed at individuals within the music industry. Wrath features guitars from Gus G (Firewind/Ozzy Osbourne) who pulls out some smoking shredding licks but still maintains a melodic element. End Of Days, an 8+ minute epic, offers up a slight change of pace with its orchestral parts and choir but still finds time to rock out with its driving drums and guitar solo in the middle section of the track.
The title track is a really interesting piece of work; it reminded me a lot of Sevendust which is not something I ever expected to say about a JSS song. Multi-instrumentalist Gary Schutt provides guitars and bass on the song and is simply outstanding. The Sevendust flavour also flows on to Trance, while Jealously is pure melodic metal. The dark, drudge sounding Karma's Kiss and the fist pumping Fail To Pieces bring the album to a stunning close and leave you feeling like you have just been hit with a Mack truck.
Clearly this was not what I was expecting from this rock veteran of 32 years. They say you can't teach an old dog new tricks, well, after hearing what Soto has brought to the table on this album I believe you can, and further to that they are damn impressive tricks at that. It may sound cliché to say "This is JJS like you've never heard him before", but in this case it really is. Give Inside The Vertigo a listen; I promise you will not want to put it down.
Categories: Album Reviews