| | |
| --- | --- |
| Posted on February 23, 2015 at 7:50 PM | |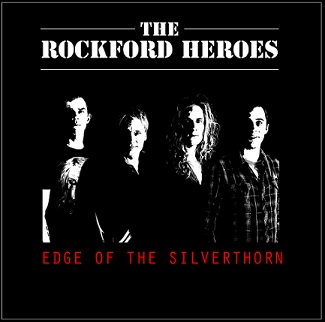 The Rockford Heroes - Edge Of The Silverthorn
Written by Antony Scholefield
Edge Of The Silverthorn is probably the best rock album of 2015 so far. If you haven't heard of it, then it's also probably the best recent album you haven't heard of.
I didn't know of the band behind the album - The Rockford Heroes - until last month. They're little fish in a big pond, founded by The Artist Currently Known As JJ Rockford (he's previously gone by other names).
The Heroes' style is wholehearted '70s/'80s retro-rock. They're a rtechnically proficient goulash of Uraih Heep, Judas Priest, and later-era Rainbow. This is most evident with 'The Day Of Return', a mid-tempo rocker that's just a mad crush of influences and tempo changes.
The vocal style is firmly planted in the ground of '70s rock, somewhere around Deep Purple's Ian Gillan and Rainbow's Joe Lynn Turner. But Edge Of The Silverthorn is really about the mad slashes of guitar that tear in from every direction.
Sometimes the songs are stripped-back to bass and rhythm. More often they're a crossfire hurricane of guitar and drums. Similarly, the tempo is sometimes slow (but still moving forward), while more often it's cranked up to top gear.
The Heroes even drop a keyboard organ into 'Gold Encircles The Alter'. How retro is that? It's a six-minute monster of a track that feels like only three minutes, because it's that good.
The band breaks out a couple of ballads as well, at least momentarily. 'Forever' stays low-key for the first 90 seconds, and then explodes into something that would sound great on a movie soundtrack. 'And Then There Was Temptation' only lasts 58 seconds before blasting into the hard-rock stratosphere.
From the first track, 'No Reason To Believe', I knew this album would be a highly entertaining ride. With hindsight, however, I realised that 'No Reason' was one of worst tracks, along with closer 'The Fool's Realm.' That's a compliment on all the other tracks, by the way.
It's possible, of course, that I'm looking through glasses made of optimism, simply because it's the start of a new year. I doubt it, though. Edge Of The Silverthorn is a fantastically entertaining album. The Rockford Heroes are a great band. As the year goes on and we find all the other unknown artists ready to explode, we'll see just how great.
Categories: Album Reviews