| | |
| --- | --- |
| Posted on February 23, 2015 at 7:45 PM | |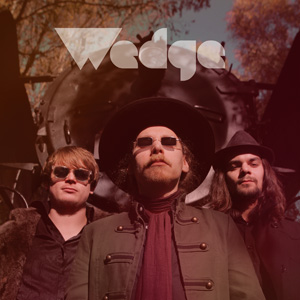 Wedge – Wedge
Written by Dave Smiles
Come with Wedge on a journey into the past when music was really meant something to disenfranchised youth. The era when kids would hang out listing to records from their rock band heroes while drinking beer they stole from their dad.
This band, hailing from Germany, takes all that was cool and powerful with bands like Black Sabbath, Led Zeppelin, Deep Purple and use what they've learnt to create some powerful new tunes. You want thunderous drumming, distorted riffs, tight rhythms and some killer solos you can find what you're after with this self-titled debut. As for the singer – think Arthur Lee from Love.
The album kicks off with the thunderous opening of Easy Chair which goes on to ease down to a Zeppelin No Quarter inspired mid-section with some cool guitar and vocal work. The song rebuilds to its original thunderous tempo in a natural way for the finale. Lyrically this is modern themes delivered in the classic rock style. Looks 'N' Savvy changes things up a bit with a more upbeat, light hearted tone with lyrics about a pining lover appreciating his woman. Compassions could be made to Melbourne band Jett who for all good intentions never managed to harness the seventies style as well as this.
Makeyerselfree uses spelt out arpeggio chords to provide the back drop for this electric ballad which contains a lost treasure – an organ solo – while '61 SG has some humorous lyrics sung over a hypnotic bass line with busy drums and fuzz tone guitars. What's not to love about this?
The Fight takes a lot from blues idea of riff, vocals, riff, vocals, but what a riff and what vocals. You can really hear this is a story about something that happened and how it's affected the singer. The best songs are personal, and this is a great example of that.
The Spider & The Cat is funky and infectious, much like the lyrics the music is stalking its prey. It proves you don't need gallons on distortion and primal aggression to be heavy. There's a cool guitar and harmonica jam in this one, with a bit of a hillbilly feel.
The album closes with Never Learn which builds up slow with a lone bass melody that is soon joined by some mellow drumming and guitar work. When the band kicks into the main riff the song comes into its own and the lyrics take you on a journey.
When you get bands like this that wear their influences on their sleeves you will get some who will say it's too much like the classic rock bands who inspired them. Others will see the influences being taken in a new direction. For me, I'm glad there are young bands out their keeping this music alive and not condemning classic rock to the likes of DJs and their samples.
Categories: Album Reviews