| | |
| --- | --- |
| Posted on February 4, 2015 at 10:30 PM | |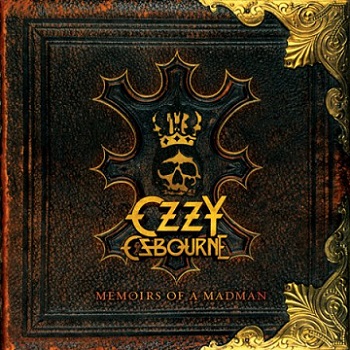 Ozzy Osbourne – Memoirs Of A Madman
Written by Dave Smiles
When you have a career that spans well over forty years your music will mean different things to different people. Whether you discovered him during his years in Black Sabbath, during his solo career, his time on reality TV or during the recent Sabbath reunion, there is no denying that Ozzy Osbourne is one of the all time greats. A dying breed of rock star who transcends music and becomes a household name.
From the early days of his solo career to his status as the godfather of heavy metal there has been times when Ozzy the 'headline,' the 'lunatic' or the 'cartoon' has overshadowed Ozzy the 'musician'. This collection shows just how great a song writer Ozzy is and how he has always moved forward against passing trends, controversies and personal set-backs.
Classics like Crazy Train, and Bark At the Moon remain just that, and tracks like The Ultimate Sin survive the era of 'glam' Ozzy. Miracle Man shows the beginning of his work with guitarist Zakk Wylde as they take the piss out of the hypocrite Jimmy Swaggart. Ozzy's career came to a creative and commercial peak with 1991's No More Tears. A fantastic collection of songs, with a stellar line up of musicians, including the title track and Mama, I'm Coming Home (with more supporting music videos), which for lack of a better word shows a mature Ozzy Osbourne.
After a brief 'retirement' Ozzy returned in 95 with Osmosis. Perry Mason and I Just Want You being the two representations from this outing. Back in full force in 2001 with Zakk Wylde by his side (although Wylde didn't contribute to the writing) for Down To Earth. Gets Me Through is a killer of a track from this killer album. Dreamer was a great contrast, the video is available on the DVD of this set and shows the tender side of Ozzy.
Ozzy in recent years has continued to release great music. Modern cuts like I Don't Wanna Stop, Life Won't Wait and Let Me Hear You Scream shows that despite age, Ozzy still has a lot left and is 'the' guy when it comes to heavy metal.
This set took the easy route by choosing the single releases. I say that, and I'm sure all who own his albums will agree, cause many an album track are worthy of acclaim. - Diary of a Madman, Shot In The Dark, S.I.N. You don't claim the title ''Prince of Darkness'' on image alone, and you don't maintain a career in the music industry for almost half a century if you don't have substance in your work. Whether it's the all-out rockers or the sweet ballads, Ozzy often showcases his love for his family, life and his concerns for the world. Beneath all his apparent 'madness' and 'evil' Ozzy may just be more human than a lot of us have become in our modern world.
Categories: Album Reviews