| | |
| --- | --- |
| Posted on February 4, 2015 at 10:20 PM | |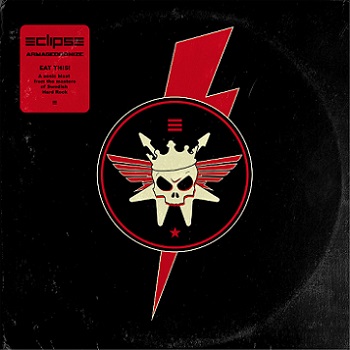 Eclipse – Armageddonize
Written by Juliano Mallon
It has been 14 years since Sweden's own Eclipse released their first album. Since then, they have become one of the best – if not THE best – melodic rock band from that country. And when listening to their albums, it's clear the evolution they had in every aspect, with a more well-defined sound that embraces new elements, but still keeping the identity the band created. And I confess when the excellent "Bleed And Scream" was released back in 2012, I ranked it as the best Eclipse album, but having the explosive "Armageddonize" in my hands, I can surely say that this is the band's display of melodic rock excellence, and it also confirms Erik Mårtensson as one of the best songwriters of today.
And this gets so very clear when you listen to "I Don't Wanna Say I'm Sorry" (frantic guitars and keyboards), "Stand On Your Feet" (one of the highlights of the album) and "The Storm, all killer rockers that will surely blow your socks off! I dare you to remain physically indifferent to any of those songs.
The high quality melodic rock parade goes on with "Blood Enemies" and "Wide Open" (another highlight of the album, due to its catchy chorus), besides the poignant power ballad "Live Like I'm Dying", which shines through in the tracklist as a brilliant opposite to a powerful collection of rockers.
And when one could start believing there wouldn't be any possible way to be positively surprised, the awesomely killer "Breakdown" (a song that reminds me of Gotthard at its best), "Love Bites" (another highlight of the album) and "Caught Up In The Rush" (another highlight with a killer chorus) blast through the speakers to show that no matter how excellent you thought the album already was, improvement was absolutely possible.
Finally, "One Life, My Life" and the melodic bliss called "All Died Young" wrap up the album with a high note.
Summing up, my dear friends, "Armageddonize" is the definitive proof that Eclipse is a force to be reckoned with. With a tight collection of songs, perfectly played and flawlessly interpreted by the man of the hour Erik Mårtensson, the Swedish quartet keeps delivering album after album.
If you're already familiar with the band's previous efforts, it's gonna be easier to note how much they've raised the bar with "Armageddonize". But if Eclipse doesn't ring much of a bell, you have no idea how overdue your homework is. With that beign said, I publicly state that "Armageddonize" is already one of the strongest contenders for the "Album Of The Year" title. A mandatory purchase, for sure.
Categories: Album Reviews