| | |
| --- | --- |
| Posted on February 4, 2015 at 10:15 PM | |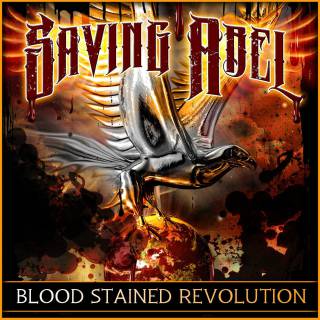 Saving Abel - Blood Stained Revolution
Written by Antony Scholefield
Sometimes new singers in old bands get in trouble because they try to emulate their predecessor. They try, they fall short, and fans get angry.
After three albums with singer Jared Weeks, Mississippian rockers Saving Abel have a new singer: Scott "Scotty" Austin, from Trash the Brand. The two are similar in some ways, but there's a bigger gulf between them. Scotty is leaner and sounds younger, with a hyperactive pop-punk vibe that's very different to the more mature and grizzled Weeks.
Still, new album Blood Stained Revolution starts in classic Saving Abel style. Opener 'Ready To Burn' is one of the best tracks - very reminiscent of 'New Tattoo', the opener for the band's self-titled debut. It's a mad, frenetic blast of hard rock that doesn't even pause to breathe in before it unloads.
The different is that while 'New Tattoo' told a clear story, 'Ready To Burn' just pulls together a bunch of tried-and-tested rock and roll sentiments. It's all "oh yeah" and "hell yeah" - and there's nothing wrong with that.
Next up is '15 Minutes Of Fame', which really starts to show the difference between the two singers, and the two incarnations of Saving Abel they lead. '15 Minutes' injects the band's usual modern rock style with a dose of electro-pop. It's much more similar to My Darkest Days than old Abel.
Lead single 'Love Like Suicide' is another step towards pop-rock or at perhaps pop-punk. Everything's wrapped in modulators and distortion, with the guitar riffs tied up in the background. It's definitely different. It's also good.
The problems start when Scotty's Saving Abel try to get too serious. Scotty just can't match Weeks for the emotional hit that hid in old tracks 'Miss America' and 'Only In Hollywood'. The last few songs on Blood Stained Revolution, as well as the title track, are all a bit wobbly because of this.
That said, Scotty is right on the money for the somewhat-soppy 'With You'. It avoids the temptation to go too slow, and completely smashes it near the end. It's up there with 'Ready To Burn' as the album's best track.
The numbers in between the highlights and lowlights are all solid. Some have more punk attitude, while some have a sly bluesy groove under the frenetic rock exterior. Nowhere, however, will you see the country-tinged rock styling of Weeks-era Abel. It's the same, but different.
Clearly old Saving Abel fans should give the new album a spin. I'd also recommend it to newcomers who like bands in the My Darkest Days mould. Sometimes different isn't better or worse. It is just different.
Categories: Album Reviews