| | |
| --- | --- |
| Posted on February 4, 2015 at 10:10 PM | |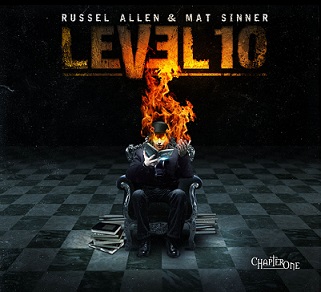 Level 10 – Chapter One
Written by The Rock Man
I cannot remember a time when there were so many superstar collaborations like we have seen in the last few years. It seems every time I blink a new one is formed or is in the process of coming together. The latest in a long line of "Supergroups" goes by the name of Level 10. This star studded metal juggernaut features the combining talents of Russel Allen (Adrenaline Mob/Symphony X) on vocals, and Mat Sinner (Primal Fear) on bass. The pair are joined by Randy Black (ex-Primal Fear) on drums, Alex Beyrodt (Primal Fear) and Roland Grapow (ex-Helloween) on guitars and Alessandro Del Vecchio (ex-Eden's Curse/Hardline/Voodoo Circle) on keyboards making this a stellar line up. The merging of these players brings with it the band's debut album, Chapter One, and it is a super heavy powerhouse of an affair.
Right from the get-go Level 10 explode in a frenzy of guitars, drums and Allen's metal powerhouse vocals on Cry No More; this formula is repeated throughout the album. Soul Of A Warrior follows and features this dark gritty guitar sound accompanied by a deep solid bass groove from Sinner, while No Turning Back is a no holds barred pedal to the metal rocker with a great melodic chorus. One Way Street is a standout track, and the entire band shine on this performance.
Following in its footsteps is Last Man On Earth, which can be singled out for its great use of melodic tones both vocally and musically and would not be out of place on an Adrenaline Mob record. Scream And Shout is traditional '80s metal; Demonized on the other hand is more in line with the style of metal we have become accustomed too over the past decade or so. The track is full on express, and drummer Randy Black deserves credit for his performance here. The band shift gears for a more tender approach on All Hope Is Gone which deals with alcoholism and domestic violence. The Soul Is Eternal is a straight ahead melodic hard rocker, while the album closer Forevermore is a steam train metal monster.
There is little doubt that this is a super impressive line up and I would suspect that this record would please fans of any of the bands that these guys come from. Whether you are a Primal Fear fan, a Helloween fan or an Adrenaline Mob fanatic, there is pretty much something for everyone's tastes here on offer. If this is the kind of quality we can expect going forward from Chapter One, quickly bring on Chapter Two.
Categories: Album Reviews