| | |
| --- | --- |
| Posted on January 10, 2015 at 11:10 PM | |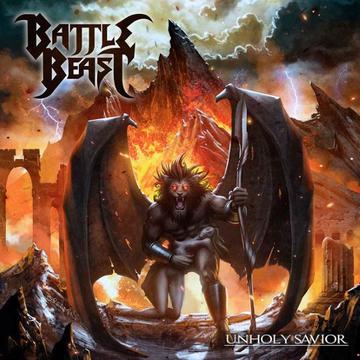 Battle Beast - Unholy Savior
Written by Dave Smiles
Long term music fans will know that when a band achieves their first taste of success the pressures and demands for the follow up are intense. Some fans criticise when the next release is too similar, others criticise when it's too different. It's a cliché, but you just can't please everyone.
After the acclaimed release of their self-titled sophomore album, Battle Beast have now returned with album number three – Unholy Savior. If there was a goal of taking the established Battle Beast sound to the next level then they have certainly succeeded. Tracks like Lionheart and Unholy Savior both show a progression and maturity to the song writing and performances of the band. Unholy Savior has some great use of big chords and heavy riffing to create different textures. The use of the clean tone for the chord progression during the verse is brilliant, and the chorus on this one is bound to get your fist pumping.
The voice grab from Scarface sets the tone for I Want The World And Everything In It. A killer all out metal track with some great harmonized guitar lines, awesome solos from the guitar and keyboard, and guest vocals from Sabaton front man Joakim Brodén. Another stand out is the two and a half minute party that is Hero's Quest. There's something about metal bands from Finland that results in at least one song, usually an instrumental, deeply rooted in the traditional warrior vibe ready to conquer. This one will have you ready to climb mountains.
What really brings this album to the next level is the exploration of other musical textures within the composition of their songs. The leadoff single, Touch In The Night shows a heavy influence from eighties synth pop, done with all the Battle Beast metal traits. The familiar big choruses with a calculated change in direction from the band.
The one minute, fifteen seconds acoustic ballad The Black Swordsman shows a more tender side to the band. This, along with Sea of Dreams and the orchestral, acoustic and keyboard instrumentation of Angel City, shows Battle Beast have managed to develop as both composers and performers. Noona Louhimo's vocal performance brings the heavy elements to these songs. Her delivery is paced and serves the songs, carrying them from calm to powerful as the drama unfolds.
During the writing process main songwriter and composer Anton Kabanen went through much soul searching where he questioned everything about himself. The result of this is a collection of songs that are filled with all types of human emotions and themes such as loss and longing, fear and insecurity, gratitude and love. The album has now set Battle Beast up for the rest of their career as a band willing to try new things and to continue to sound fresh. Expanding the formula this early in their career is a very smart move and will allow them to venture into various areas in the future.
Categories: Album Reviews